By BRIAN GOLDEN
Valley Press Staff Writer
---
Norm Hickling's words last week landed like a salve, rather than salt, on the still-open eastside wound that is the former Los Angeles County Raceway.
Hickling, the Valley field representative for Fifth District Los Angeles County Supervisor Michael D. Antonovich, told the Valley Press last Friday that Antonovich sees economic development in Lake Los Angeles and a new Valley motorsports complex as mutually beneficial priorities.
Hickling's disclosure that a successor to LACR has already been discussed in the County's regional planning department was welcome news to Jeff Hillinger, the graphic artist and movie industry computer generation consultant who has been spearheading efforts to replace the famed dragstrip that was closed by Granite Construction mining efforts last July 29.
"That is good to hear," Hillinger said Monday. "I just wish they would keep us more informed on this, because we have people who're making efforts to buy land out here, and it would be nice to know that the County is on our side."
Hillinger said he has had several discussions with Hickling.
He said he is convinced of the sincerity of Supervisor Antonovich's interest in replacing the former drag racing icon that drew more than 250,000 visitors to the Valley annually.
"I believe in Antonovich, I really do," said the man whose passion for LACR prompted him to move himself and his bustling high-tech business from Glendale to Littlerock. "Businesses out here in Littlerock and Pearblossom are feeling it, man. Restaurants, hotels, even the auto parts places, because if somebody at the dragstrip needed a part, they bought it right here in town."
When not building websites and consulting computer-generated special effects for cinematic use, Hillinger has been absorbed in developing what is now up to a 14-page business plan for a new LACR.
He had the services of a financial planner and a real estate agent to assist with the vagaries of land acquisition and purchase.
But since his organization is made up totally of volunteers bonded by a passion for hot rods and drag racing, the challenges of the current economy have forced attention to be diverted elsewhere.
"SaveLACR has people who are willing to put up their own money in to take care of things like environmental impact reports and the other red-tape stuff," Hillinger said. "That's how badly we want to see a new dragstrip built to replace LACR.
"But there are certain things, like infrastructure and access roads, that only the County can do."
The Supervisor and the SaveLACR zealot have in fact corresponded about the specific piece of property the County has in mind.
It is a 500-acre parcel that would be third in size only to Willow Springs International Raceway and Auto Club Speedway at Fontana as a motorsports venue in the state of California , were it ever developed.
The SaveLACR group has also been eyeing a second, 140-acre parcel only a few miles east of the former LACR site. Currently it is used extensively for movie, TV and commercial location shoots.
"The owners there reside on their property," said Hillinger, who brought the second real estate possibility to Hickling's attention. "They're totally open to doing something with their property."
Working with tract numbers and regional planning and the other intricacies of development enabled Hillinger to make a valuable discovery.
The land areas under discussion would fit right in with the County's 30-year plan for the Valley, which includes a freeway to by-pass Highway 138 and link Interstates 5 and 15.
"The hotels, restaurants and entertainment venues in my plan would be just as welcome to truck drivers and motorists on the freeway as they would be to drag racers and fans coming to town for a weekend," Hillinger said.
In the meantime, Hillinger says there is something the County can do immediately that would show good faith for the big-picture motorsports complex to come.
"I'm still getting calls from people asking about the Wednesday and Friday night street-legal program at LACR," Hillinger said. "These kids need a place where they can race safely, under supervision and with the proper safety equipment in place.
"The sheriff already blocks off streets in the outlying areas of the eastside for movie and TV shoots. We've all seen those roadblocks. Why can't the county block off one of those roads that dead-end between the alfalfa and onion fields one Friday night a month and we can have safe drag racing for our young people?"
Hillinger has already floated the idea to several large businesses in Palmdale, who he said have expressed interest in underwriting the K-rail, Christmas tree and other features needed to transform the road into a temporary dragstrip.
A fee of $10 per racer could be assessed to create a fund SaveLACR could put toward the expenses of site surveys and EIRs.
"Our dream is still a new quarter-mile dragstrip, with an off-road racing course and an oval for the stock cars," Hillinger said. "But in the meantime, just one night a month would be a huge help to keep somebody from getting killed street racing.
"One night a month. Is that too much to ask?"
Valley bids adieu to Longjohn
Chamber's members tell stories at roast
This story appeared in the Antelope Valley Press on Wednesday, August 22, 2007.

By LIANE M. ROTH
Valley Press Staff Writer
Twenty-seven-year Antelope Valley resident and businessman Bernie Longjohn was the main dish at Palmdale Chamber of Commerce roast Friday night at the Holiday Inn in Palmdale.

Family and friends roasted and toasted Longjohn, who operated the Los Angeles County Raceway drag strip from 1980 until landowner Granite Construction Co. expanded its mining operations and forced the closure of the track to drag racing. Longjohn took the final lap in a hearse July 29.

He is moving to Alabama, where he has purchased another race track.

Approximately 100 people came to say goodbye and good luck to the man who made MoonPies a part of Palmdale Chamber of Commerce history.

Longjohn will join his wife, Anne, who has "gone ahead to get the house ready," he said.

When Longjohn, then an Air Force master sergeant, arrived at George Air Force Base in Victorville in the late 1970s, he already had helped create drag strips at previous bases.

His base commander at George heard about Longjohn's experience and asked him to set up a track, so Longjohn, who served a three-year military stint in Southeast Asia until 1973, created the High Desert Timing Association.

As his Air Force career was ending, Longjohn said he looked for opportunities in the surrounding communities and found the Kings Antelope Valley Racetrack, which had opened and closed several times since its opening in 1964.

"I took over the lease in 1980 and took off running," Longjohn said Friday night. "I hustled everything - used and abused my wife and kids, probably to their dismay, promoted the heck out of the track and everything I could."

Even Longjohn's mother-in-law, Alice Monger, 93, helped out by selling T-shirts and hats at the racetrack.

Elephants on race track

Through the years Longjohn played host to such unique events as Funny Car or El Camino races, the Battle of the Imports with more than 700 import cars drag racing, and the Circus of 1984, which brought elephants to the raceway.

"Maybe not one of Bernie's best ideas," said Don Ryan, master of ceremonies for the gala. "Bernie didn't realize elephants go to the bathroom a lot - I mean really a lot. It took him six months to get the smell out of the pits."

Ryan, owner-agent at Farmers Insurance in Palmdale, said, "LACR was the only drag strip Sports Illustrated magazine covered. We have copies available on eBay for 50 cents - first come, first served."

Ryan's wife, Vickie, president of the AV Sunrise Rotary Club in Palmdale, is collecting the T-shirts to make a quilt for Longjohn and his wife. AV Sunrise Rotary donated the dessert, a large cake featuring a map of the United States with a moving van trekking from Palmdale to Alabama. Vickie decorated the cake.

Michael Hill, a longtime friend, recalled the time he had tickets to the Indianapolis 500 in Indiana many years ago and invited Longjohn to go with him.

The original car that won the Indy 500 in 1911 was on display and Longjohn wanted his picture taken with it, Hill said.

"As Bernie stood next to the car, a woman came up to me. She asked me if that was the first car to win the 500," Hill said. "I said, 'Yes, it was.' 'Is that the guy that drove that car?' she asked, pointing to Bernie. 'Yes,' I said, 'it is.' "

Longjohn provided colorful explanations in response to the stories about his high jinks over the years.

He used to have bikini contests, he said, to draw a bigger crowd to the track, with cash prizes to the winners.

"One year, a full-figured gal entered the contest," Longjohn said. "She'd gone to Wal-Mart that morning and bought a gold bikini.

"She had four kids and needed the $100 prize, so she entered the bikini contest. The winner was chosen by audience applause. Well, when we got to this gal, the crowd went crazy. The stands were full and the people kept applauding and cheering for her.

"I figure they thought she was the bravest woman on the face of the earth. God bless her, she won! That was the neatest contest we ever had."

Prince of the Pits

Larry Grooms, field representative for Assemblywoman Sharon Runner, R-Lancaster, served as official roaster and took his duty seriously.

Calling Longjohn the "undisputed king of the drag strips and the Prince of the Pits," Grooms said he admired Longjohn's efforts and promotions over the years, including being "the only guy to ever have a drag race on Mother's Day."

"Events like local celebrity drag racing, where you told me you'd provide my car," Grooms said. "Thanks for the Pinto. It went from zero to 60, eventually. I noticed you pass me in your 'Vette, Bernie. Thanks a lot.

"And who could forget the 'Palmdale Chamber mooning contest,' where 13 members were kicked out, including you. The next week, Bernie gave MoonPies to every ticket holder at the raceway."

That incident led to Longjohn establishing the now-defunct Greater Antelope Valley Chamber of Commerce in September 1998, although Longjohn said the chamber's creation was actually a matter of timing, rather than a result of his and others' being ousted.

"I wanted to bring more to the AV in the way of a chamber that was more politically involved," Longjohn said. "It was a great run, and we accomplished what we set out to do."

Los Angeles County Sheriff's Department community relations Deputy Dave Jennings presented Longjohn with a "ticket," charging him, among other things, with excessive speeding over the maximum speed limit, noise ordinance violation after 11 p.m., setting vehicles on fire at LACR and taking out a dance pole at Snooky's.

Jennings said the final charge was "abandonment of friends," and the fine was "a number followed by a whole bunch of zeros, I don't know, zillions and zillions, due within 30 days. Pay up, Bernie!"

Mike Dispenza, Palmdale mayor pro tem and owner of Mike Dispenza State Farm Insurance, said, "I'll never forget the first time I met Bernie. But like the rest of you, I'll keep trying."

Dispenza said Longjohn contributed to the Antelope Valley through chamber events, financial donations and "just plain hard work."

Longjohn's pals said his promotional stunts have entertained the Valley for 27 years, recalling the AV Chamber Mayor Races, stunt driver exhibitions, the Harley drag races and the Jet World Finals, started by then-Assemblyman William "Pete" Knight, R-Lancaster, who wore his helmet from his X-15 days in recognition of being "the fastest man in the world."

Longjohn never has been accused of being speechless, and several friends reminisced about times Longjohn was so enthusiastic about his ideas he couldn't stop talking.

Neighbor Harry Engle talked about living next door to Longjohn and some of the pranks they pulled on each other.

"Bernie always had something to say," Engle said. "It took him a while to get there, but when he did, it was worth the trip. I'm really going to miss you, Bernie."

Found new raceway

Longjohn said when he realized he was going to lose the raceway, he flew to Jacksonville, Fla., and started looking north for a raceway to buy.

When he found the Bama Dragway in Kimberly, Ala., a bedroom community outside of Birmingham, he talked to owner George Howard, and they struck a deal.

"He's famous in racing, but his tracks aren't as family-oriented as mine was," Longjohn said. "By marrying our programs, we can have both kinds of racing.

"My mother-in-law is with us, too," Longjohn said. "She asked me if there was a place for her to sell T-shirts - I said if there's not, we'll build you one!"

Longjohn thanked the crowd for their years of support and all the good times they shared. He told of his successes and some failures during the years, like running for office and never winning.

Of all his accomplishments through the years, Longjohn said it was his family that made him the proudest, and he credited them for his achievements.

"Without my son Michael, my daughter Deanna (Peters), my four grandchildren and my mother-in-law, I couldn't have done it," he said.

"But most of all Anne, my lovely wife of 44 years, who couldn't be here because she's setting up house in Alabama for me, I can't thank them all enough."

Commitment to youth

Through the years, Longjohn expressed his commitment to the youth of the Antelope Valley

He said he donated time and money to Antelope Valley College and encouraged the Antelope Valley Union School District to increase programs to reach area students who might not be university material.

He served on the Citizens Prison Advisory Committee because, he said, it was his responsibility to "help others, just as it is everyone's responsibility to reach out to those less fortunate."

"I have a good track record with programs for young adults. Here at LACR I provided a social evening for young adults for not much money.

"I provided a service to our youth in the AV. I had a dad call me when he heard we were pulling out. He asked me where are his kids going to go now? I couldn't answer him. I don't have an answer."

Longjohn finally got the question he couldn't answer.

LACR was a National Hot Rod Association-sanctioned championship quarter-mile drag strip with an adjacent motocross track open to nonprofessional drivers and all types of cars from dragsters to street cars.

The raceway has been used in hundreds of commercials as well as television shows and music videos and featured in movies like "The Fast and the Furious" and "Ocean's Eleven."
Hillinger moves slab from LACR onto his property
This story appeared in the Antelope Valley Press on Thursday, August 16, 2007.
By BRIAN GOLDEN
Valley Press Staff Writer

---
The dirt is just over two weeks old, figuratively, on the burial of Los Angeles County Raceway.

Yet the Christmas tree is glowing green for efforts to replace the 43-year-old California landmark drag strip.

Quite literally, LACR has come back from the dead in a 16-by-35 slab for Jeff Hillinger, the organizer of the Save LACR committee and webmaster of savelacr.com.

After years of sliding around on plywood in the dirt while restoring and customizing cars, Hillinger decided to install a permanent concrete slab on his property.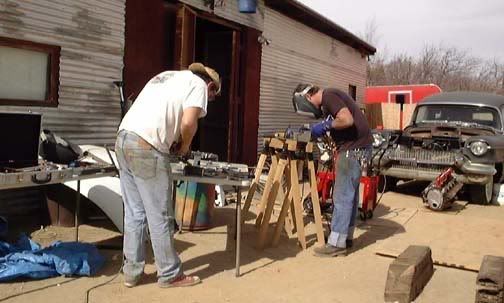 Project work area "dirt and plywood"
"They just poured it (Wednesday) morning," said the man whose passion for LACR prompted him to move his graphic arts/movie special effects computer generation/website/car customization conglomerate to Palmdale from Glendale five years ago. "I asked my contractor where he got the aggregate for the concrete, and he said, 'Granite (Construction)'.
Pouring the mud!
"So that means a part of the pits at LACR will now live forever on my property. I've got a little piece of history right here in my own backyard."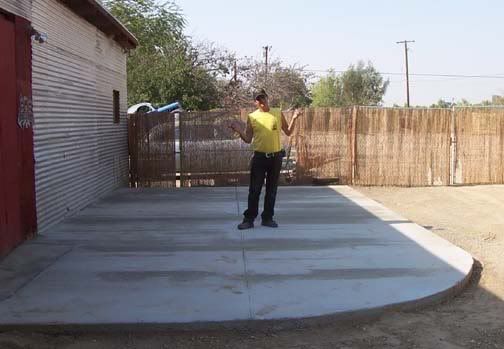 Go figure!
While Granite Construction has begun recovering more than $9 Million worth of mineral aggregate under LACR's former pit area, focus for Valley drag racing enthusiasts has shifted to finding a site for a new dragstrip.
They miss the racing.
City and county officials already miss the estimated $8 million Los Angeles County Raceway put into Valley cash registers annually in hotel and motel, restaurant, gas station and auto parts receipts.
The irrepressible Hillinger, whose primary job description should be raging optimist, said the two weeks since LACR's official closing have been more frenetic than funereal.
Hillinger said he came away from a meeting with Norm Hickling, the field representative for Los Angeles County Supervisor Michael D. Antonovich (R-5th), more optimistic than ever.
As former president of the Lancaster Chamber of Commerce, Hickling saw first-hand the powerful economic impact sports generated with the likes of the Lancaster JetHawks, the Big 8 Softball complex and the Lancaster National Soccer Center.
In an e-mail to the Valley Press the week after LACR's closing Hickling, himself a big racing fan, expressed confidence the Valley could sustain a major motorsports complex that could include drag racing and short-track stock car racing.
"LACR ran a wonderful junior dragster and high school racing program that kept kids off the streets," Hickling wrote. "Supervisor Antonovich sees this as a public safety issue, too, in having a drag racing option that keeps it off the streets."
It's not only public officials who have bolstered Hillinger's hopes for the post-LACR world.
He's received enough expressions of support and potential investor interest that his Save LACR Committee has retained investment and real estate consultants.
"This thing is beginning to snowball," Hillinger said. "We're getting calls from people who want to invest in a new drag strip because they know it would be a winner, business-wise. That's the thing about this track.
"It's good for businesses in the area, it's good for public safety to have a supervised setting for kids to race, and it's great for all the drag racing fans all over southern California."
To once again illustrate the point Hillinger, in his alter-ego as "Moldy Marvin," is staging another Rat Fink Party and Cruise-In at the Historic Outpost (116th Street East at Highway 138) this Saturday from 5-10 p.m.
It's open to pre-73 customs, hot rods and motorcycles. There'll be vendors, BBQ and a special awards ceremony, and admission is free.
The Final "Rat Fink Klassic Kulture Cruise-In" the week before LACR's closing drew an overflow crowd that even surprised Hillinger. Visitors came from as far away as Phoenix and Las Vegas.
"This is our POST-Rat Fink Party and Cruise-In," chuckled Hillinger. "Of course it's mainly a chance for kustom and hot rod enthusiasts to get together again, but it's another important chance to show people how big a new drag strip would be.
"The event Richard (Marcella of KPAL-TV) had was tremendously important to keep this issue in the public eye. I think that's why the County is so enthusiastic about this. The public is telling them this is something they want."
Track's final event is an emotional, historic night
This story appeared in the Antelope Valley Press on Monday, July 30, 2007.
By BRIAN GOLDEN
Valley Press Staff Writer

---
PALMDALE - As the final two vehicles tore off toward the horizon and history, the band played on at Los Angeles County Raceway.
The Band's name was 3 Ft. Deep.
It was only half the story.
The final day of the historic quarter-mile dragstrip at Avenue T and 65th Street West was even more emotional than expected.
A hearse bearing the signs "R.I.P. LACR" flew in formation down the track with a Jeep Cherokee containing track owner Bernie Longjohn's grandchildren on the penultimate pass.
The final pairing at 6:42 p.m. was set by a raffle. Longjohn bought 100 tickets at $10 each to ensure he would be involved, along with high school shop teacher Dave Meigide of Lake Arrowhead.
The little red corvette of Longjohn and his wife, Anne tore off a 14.21 (81.93 MPH) that was good enough for victory when the nitros injectors in Meigide's 1971 Camaro failed to ignite.
Meigide was still smiling. His Rim of the World High School automotive class had resurrected the car from the scrap heap in five months.
The top of the windshield read "This One's 4 Danny," a reference to a friend who introduced Meigide to LACR in 1987.
"He died of a brain tumor five years ago," explained Meigide. "He would have so proud today.
"I completed my competitive license requirement today. So I'm the last guy to license at LACR."
Such stories dominated the final day of the track opened in 1964, which will now yield to the earth movers of Granite Construction for the recovery of $9 million in minerals under the track that have already been sold.
Many in Sunday's crowd, and staging area, were veterans of four decades of LACR drag racing.
Steve Gold of North Hollywood had been coming to LACR since 1968. He almost reverently folded an American flag into a military triangle.
"Bernie gave me one of the four American flags that flew over LACR today," Gold said. "I had it tucked inside my shirt on my last run, and then I put in the hearse for the last run."
Gold won consecutive National Motorcyle Racing Association (NMRA) national titles in 2002-03 at LACR.
"I don't think it's hit me yet," Gold replied when asked what he would do now. "It's just starting to sink in now that we're not going to be able to come here anymore.
"This place has been like family to me. How am I ever going to replace that?"
Family was a huge part of the emotional finale of the final competition motorcycle race, run at 6:36 p.m.
LaVerk Harper of Green Valley took home the trophy - and more importantly, the memory.
"My uncle, Quillie Penright, started bringing me here 23 years ago," Harper said. "He died a year ago, and yesterday was his birthday.
"To win the last competition motorcycle race at Los Angeles County Raceway is one of the highlights of my life. I just know my uncle was riding with me today."
Among the NHRA Wally winners on LACR's final day were Mike Haddad, Mikey Griffin and Newbury Park racer Kevin Hayes.
As the sun metaphorically set on LACR's remarkable 43-year history, there were hugs and tears and more hugs and pictures and yet more tears and hugs.
Longjohn was confident the buildup from last Wednesday would prepare emotionally for the final act. He was wrong.
"Very much so," said the Alabama-bound track mogul. "It was a different group of people each night, and the crowds kept getting bigger and bigger. It was almost like we had two Fridays, from the number of people here.
"We had to run two staging areas to get all the street racers in Saturday night. We had people who wanted to race all the way to dawn."
Instead, they raced all the way to dusk.
Fans pack LACR stands for final Saturday
This story appeared in the Antelope Valley Press on Sunday, July 29, 2007.
By BRIAN GOLDEN
Valley Press Staff Writer

---
The parking lot was packed.
The pits were double- and triple-parked.
The grandstands were fairly bursting with spectators.
Two different bands played full-throttle.
It looked like any Saturday night at Los Angeles County Raceway.
Only, this was the last Saturday night at LACR.
With Granite Construction Company's earth movers poised to devour the 43-year-old dragstrip in search of the minerals beneath on Monday, race fans from all over Southern California came to say goodbye on the track's last scheduled night of street racing.
As late as 9:15 p.m., cars could be seen hauling trailers with dragsters into the front gates off Avenue T at 65th Street West.
"People want to say goodbye," said Jeff Hillinger, who chairs the ongoing Save LACR Committee, whose quest is now to save drag racing in the Valley. "That's why there are no seats left in the grandstands or spaces left in the parking lot.
"That's why," Hillinger went on, pointing to the lengthy line for staging to the starting line, "you see that."
Hillinger was gesturing at a perfectly street legal Chevrolet Suburban waiting in line to make another pass down the storied quarter-mile.
It could have been anyone's family SUV, in any supermarket, movie theater or public park parking lot.
Instead, it was lined to to race on LACR's final Saturday night.
On its side window scrawled "18."
It had taken 18 seconds to traverse the quarter mile, on a night when times barely above six seconds were posted by several racers.
On this night, LACR was timeless.
"That's how badly people want to keep a piece of this track in their hearts," Hillinger said. "He's out here in the family sedan.
"His time is irrelevant. It's the place that matters."'
There were several sizable purses for the more serious drag racers.
"Angry Steve from Inglewood," as the track announcer called him, rolled up to the line to compete for $1,000.
"A 6.14," roared the announcer. "That's the best time Steve from Inglewood has ever done here."
His best is now his legacy.
The legacy of LACR is that of a place equally home to Don "The Snake" Prudhomme and eight-year-old beginners in the Junior Dragsters program.
It's a legacy Hillinger, track owner Bernie Longjohn and LACR's other lifers aren't the only ones determined to continue somehow, some way.
And somewhere else in the Valley.
The fact that the Save LACR Committee was contacted last week by Los Angeles County Supervisor Michael D. Antonovich's office, not the other way around, was a hopeful sign.
Fifth District field representative Norm Hickling, a longtime racing fan himself, pledged county assistance in the effort to locate a new home for LACR.
"The city and the county have been great about this," Hillinger said. "I think they mean it. They know we need this up here, for a lot of reasons."
The future remains to be determined.
In the meantime, there was one last Saturday night to celebrate 43 years of Saturday nights.
As cars and trailers continued to roll in near 10 p.m., today was poised to become tomorrow.
"Maybe we'll just race all night like in the old days," one jocular celebrant said. "Curfew?
"Who said anything about a curfew?"
Drag racing proponents to rally for a new venue
Article Last Updated: 07/29/2007 08:55:49 PM PDT
LANCASTER - Supporters of legal drag racing say they're taking the closure of a legendary Antelope Valley raceway as a call to arms.
Raceway proponents are eager to build a new venue for legal drag racing in the aftermath of Sunday's closure of Palmdale's Los Angeles County Raceway.
They'll take their case to the streets and the airwaves in a televised rally outside the studio of KPAL-TV (Channel 38) in Lancaster in an event organized by Richard Marcella, executive producer and host of the local station's "The Racing Show."
The rally will begin at 7:30p.m. Friday at 118 W. Ave.I, and it will feature a roundtable discussion about what's being done to build a new raceway.
Marcella said building a raceway would keep illegal hot rodders off the streets and generate revenue for the Antelope Valley.
Supporters are urged to bring their classic cars and hot rods to a rally Marcella said he expects hundreds to attend.
"The more support we have from the public, the better our chances are of getting another raceway," Marcella said.
Among Marcella's featured guests will be Jeff Hillinger, who heads Save LACR, an ad hoc group that desperately tried to keep the Palmdale raceway open.
The land LACR sits on is leased by Granite Construction, which will mine the strip for coveted concrete aggregates later this year.
Hillinger said the group is actively pursuing short-term and long-term possibilities, including building a new facility with grandstands, a restaurant and a gift shop.
He said the group aims to build a quarter-mile-long track.
The group is seeking nonprofit status that Hillinger said would help raise funds and make construction of a future site more financially feasible.
Construction of a new facility would cost $2million to $10million.
"We're very determined, and we have a lot support," Hillinger said.
"There's a lot of people that are behind us. We've been getting responses from people in other states saying, "If you need help, let us know."
LACR closing may send kids to streets
This story appeared in the Antelope Valley Press on Saturday, July 28, 2007.
By BRIAN GOLDEN
Valley Press Staff Writer

---
The conversation turned nostalgic, as so many have for Bernie Longjohn this week approaching the official closing of Los Angeles County Raceway Sunday.
Then, it turned ominous.
"What's going to happen," a father of two young sons involved in LACR's youth drag racing program asked the track owner, "next Monday?"
Longjohn could only frown and look at the ground.
"No," persisted the worried father. "What's going to happen?"
After satisfying so many racing fans since purchasing the track in 1980, Longjohn was left standing at the rhetorical starting line this time.
"I wish I could have told him something that would have eased his fears," Longjohn said. "But I just don't know."
The Saturday night street racers take to LACR's quarter-mile for the final time at 7 o'clock.
The jet cars, funny cars and altered cars will deliver Los Angeles County Raceway' valedictory address Sunday evening.
But after that, where do this concerned father's kids, and all other adolescent drag racers weaned on power and speed, go next?
The most immediate geographic options would be the drag strips at Irwindale Speedway and California Speedway in Fontana.
The popularity of its street legal drag racing program has prompted California Speedway to expand the program.
But with popularity and expansion have come long lines and frustrating waits.
"California Speedway is 75 miles from here," said Jeff Hillinger, the organizer of the "Save LACR" Rally last spring. As a simultaneous expression of love and defiance, Hillinger plans to continue his SaveLACR.com website.
"You get down there, and you might be able to make one or two runs, where you got a lot more than that at LACR," continued Hillinger. "That's not much for a 150-mile round trip at more than $3 a gallon."
With Irwindale merely a more southerly-directed 75-mile radius from LACR's acreage, the fear is that street racers will stake out their own more convenient location.
The streets.
An incident last spring on west Avenue G that led to the deaths of two spectators only deepens parents' fears.
"I raised my children around racing and also their friends with the hope that one day they would grow up and know street racing is illegal," wrote Cheri Brewer-Agalsoff, a Valley mom who describes herself as a member of a family involved in racing for three generations in a letter of support to SaveLACR.com. "They understand that street racing is not drag racing.
"These kids made a promise to me that they would never race in the streets. But now that the closing of LACR is here, where will they go?"
Los Angeles County Raceway offered both high school drag racing programs, and junior (ages 8-17) dragster programs.
Under Longjohn, it was also an eager and active partner in the Los Angeles Sheriff's Department's LASD Motorsports program.
At their own expense, a team of sheriff's deputies built and maintained their own dragster, in the familiar livery of an LASD cruiser.
In the course of their daily duties patrolling the roads and highways of the Valley, they routinely handed out passes to LACR to young drivers they pulled over who could be released with just a warning.
"Whatever perceptions or attitudes kids have about sheriffs," Longjohn said, "they change for the better in a hurry when a kid sees a deputy is as big a fan of racing as he is. The LASD Motorsports program was tremendous for improving rapport with kids."
Palmdale Mayor Jim Ledford and City Councilmembers Mike Dispenza and Steve Hofbauer (who has two nephews who race at LACR) have each indicated publicly they support meeting the need for a new drag racing venue. All identify it as a public safety issue.
But where?
Richard Marcella, who's hosted a longtime racing program locally on KPAL-TV, has organized a rally for Friday, Aug.3 at the television station's Lancaster studios.
Marcella invites drag racing fans to bring their race cars, antique cars and hot rods betweeen 5-8 p.m. The last half hour will be cablecast on KPAL.
Valley's LACR has illustrious 43-year history
This story appeared in the Antelope Valley Press on Friday, July 27, 2007.
By BRIAN GOLDEN
Valley Press Staff Writer

---
It was October, 1964.
The Antelope Valley Freeway wasn't yet a civic gleam in anyone's eye.
The second phase of America's space program, the two-man Project Gemini, was still six months away.
Fully 17,700 acres boldly earmarked for "Palmdale International Airport" were set aside - as they still are today.
There was no waiting on the Palmdale/Littlerock border.
A 4,000-by-70 foot ribbon of asphalt was opened at 65th Street West and Avenue T.
Palmdale International Raceway began a 43-year run of almost biblical events, achievements and personalities.
What was born nearly 43 years ago as Palmdale International Raceway deploys its parachute and rolls off into the sunset as Los Angeles County Raceway on Sunday.
The dedicated dragstrip, one of only two it of its kind in the state of California, has gone through name changes, ownership changes and demographic changes like a cat burning through its nine lives.
The luck, and the lives, run out Sunday. After that, main lease holder Granite Construction begins mining the acreage for the aggregate mineral values.
They'll dig through layers and generations of memories, too.
Since the grand opening on June 12, 1965 under the auspices of Scott Franklin, LACR has been host to numerous drag racing clubs.
The Road Kings, the Bean Bandits, the Early Riders, the Tyrants, the National and International Brotherhood of Street Racers, the Mutilators, the Wheel Tramps, the Rod Tossers and the Lordsmen were just some of drag racing clubs involved.
Associations including So Cal ProGas Association, So Cal Super Street Association, NDRA, WTA and the ANRA have all called LACR home.
George "The Bushmaster" Schriber was there racing on the first day of the track's existence, and will be there for the closing on Sunday. Schriber drove for Ed "Big Daddy" Roth, his sponsor.
"George reminisced how in the summers he and Ed would come up," said Jeff Hillinger, the SaveLacr.com website creator who has emerged something of an LACR historian in recent years. "They would get together at 6 o'clock in the evening and race all night long, then they would take a break for a watermelon-eating contest and tell war stories of broken parts and burning rubber.
"Then in the wee hours of the morning when they were all finally tired of racing, the cool desert breeze would kick up, and they would take their sleeping bags out on the track where the heat from the evening's festivities would keep them cozy while they gazed up at the clear skies and the stars."
Schriber never had any delusions about LACR's credentials as a great drag-racing facility. The elevation, the heat, the wind and swirling sand conspired to keep LACR from comparison to the great drag strips of the region.
"But LACR was always one of my favorites," Schriber quickly added.
The dragstrip went through a fitful series of closings and re-openings from 1969-74, before the facility was formally renamed King's Antelope Valley Raceway.
When Bernie Longjohn purchased the property in 1980, the facility became known as Los Angeles County Raceway.
"One of the things I'm proudest of," Longjohn said, "is the community involvement that went on at the track. We proved that it would be as good for the track as it was for the community."
At one time or another "Flaming" Frank Pedregon, Don "The Snake" Prudhomme, Bobby Hightower, Hayden Proffitt and Danny Omgais all added their unique layers or burnt rubber atop he 4000-by-70 racing surface.
"LACR is a lot like "Cheers," said Hillinger, who was brought to LACR by his father when he was small, and has since relocated from Glendale to be closer to the track.
"It has always been a place to go where everybody knows your name."
With LACR, also goes a really good guy
This story appeared in the Antelope Valley Press on Thursday, July 26, 2007.
By BRIAN GOLDEN
Valley Press Staff Writer

---
In a career spent in the high-profile positions of motorsports promotion and civic involvement, Bernie Longjohn has been called many things.
But just once did someone stop him in his tracks.
"It was after we had The Battle of the Imports, more than 700 import cars drag racing," recalled the owner of Los Angeles County Raceway of a record-setting 1995 weekend. "A young man came up to me and said, 'You know, you are the godfather of import drag racing'.
"That made me feel pretty proud."
As the curtain comes down this weekend on 43 years of drag racing at LACR, the finale is as much about heart and soul as it is about burnt rubber and vapor trails.
To be sure, no one will ever top the NHRA record set with more than 700 imports.
But Longjohn wonders what will happen to the thousands of dollars raised for charity every year by various LACR events.
And, what may potentially happen to the hundreds of Wednesday night high school drag racers who will no longer have a safe, supervised setting for speed?
"I've always believed you have to be involved in your community," said Longjohn, who variously led the chamber of commerce and ran for school board during his 27 years owning LACR. "You don't just take. You give back, too."
So, as excited as he was to see three drivers who started the 2002 Indianapolis 500 come out to LACR for the Hollywood Stuntmen's annual Thanksgiving weekend "Day in the Dirt" motorcycle Olympics, he was even more excited to see the thousands of dollars raised for Children's Charities in Los Angeles.
Having Mariah Carey on the property to shoot a music video was a kick. So was welcoming the movies "Ocean's 11" and "The Fast and the Furious" onto the LACR acreage.
Even more rewarding was the idea that local Valley teens satisfied their need for drag racing speed at LACR on Wednesday nights.
"Our (ages) 8-17 program was the first of its kind," Longjohn said proudly. "We had two kids, Danny Keen and John Calvert, come out of our high school drag racing program and go on to win national championships. So many positive things have come out of LACR."
It only makes the sense of regret more profound when the gates close for the last time Sunday afternoon.
Longjohn, who purchased LACR in 1980, has nothing but praise for Granite Construction, the major lease holder that has mined every other possible square foot of the drag strip acreage while avoiding the race track at all costs.
"I knew from the moment I signed the lease that this day would come," said the LACR owner. "Granite are the good guys in this. They went out of their way, and they didn't have to, to maintain the dragstrip."
Sensing LACR's demise was indeed approaching, Longjohn flew to Jacksonville, Fla., last winter, and began driving west.
Looking for race tracks.
Outside Birmingham, Ala., he found what he was looking for.
What the owner there found was a man who thought of dragstrips in ways he never imagined.
As noisy town halls. High school safe-driving academies. Charity fundraising machines.
The man who sold what will now be Bama Dragway to Longjohn was so impressed, he asked the LACR maven to help him institute those innovations at two other tracks he owns.
Longjohn's wife, Anne, has spent the past week preparing the couple's newly-purchased home near Birmingham.
The beauty of drag racing is that you don't have to wait until December to put up the Christmas tree.
Anne will return Thursday to share this final weekend where once she shared drag races with her husband.
How could she miss the last Friday night Test-N-Tune, the last Jets and Funny Cars and Street Racers and Altered's Brackets?
For 27 years, the Longjohns gave a whole new meaning to the word "drag."
A positive one.
ROTH DISCIPLES - Troy McQuade and Jason Wrona admire a '56 Chrysler Newport on Saturday during the Rat Fink Party at the Los Angeles County Raceway in Palmdale.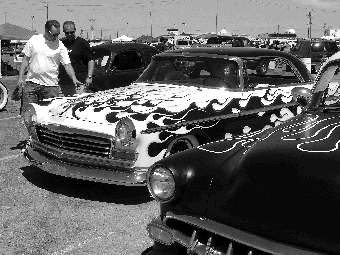 BERNARD KANE/Valley Press
Roth fans rock to raceway for the Rat Fink
Party celebrates Big Daddy's 'Kustom Kulture' '60s scene
This story appeared in the Antelope Valley Press on Sunday, July 22, 2007 .
By JAMES RUFUS KOREN
Valley Press Staff Writer
PALMDALE - To be a fan of Ed "Big Daddy" Roth is to love many things: hot rods, funny hats, fishnet stockings, skull motifs and, above all, the Rat Fink, Roth's infamous anti-Mickey Mouse character.
The green, veiny, bug-eyed, slobbering and otherwise grotesque rat, most often wearing a red tank top with the initials "RF" and driving some manner of mean-looking hot rod, went hand in hand with the Southern California hot rod and "Kustom Kulture" scene in the 1950s and '60s and was on display in myriad forms Saturday at the eighth annual Rat Fink Party at the Los Angeles County Raceway in East Palmdale.
The party, a tribute to Roth, Rat Fink and hot rods, included custom car and motorcycle showings, drag racing and sales booths with everything from Rat Fink dolls to Pabst Blue Ribbon-inspired pop art.
"We've having a little bit of nostalgia," said Bernie Longjohn, who runs the raceway, which has now been home to three of the eight annual Rat Fink parties.
The party used to be just a car show and was held at parks and other venues, but three years ago, event organizer Jeff "Moldy" Hillinger decided he'd like to add drag racing to the festivities.
Dragsters of all kinds took to the quarter-mile, with muscle cars of the '70s, street rods of the '50s and jalopies of the 1930s all testing their limits on the strip.
While the event brought plenty of attendees and car owners - more than 300 autos, Hillinger said - Saturday was about more than Rat Fink and Ed Roth. The Rat Fink Party marked the second to last event, and the last novelty event, that will be held at the raceway. After Saturday, the raceway will host one more weekend of drag racing before closing its gates forever.
"I bought my LACR Last Drag Race T-shirt and a new decal," said Ron Miller of Simi Valley . He's been coming to the Rat Fink Party for several years and came Saturday to take his 1955 Chevy Nomad out on the 43-year-old drag strip. The back bumper of the light-blue and primer-gray Nomad had stickers from San Fernando , the Los Angeles harbor area and Irwindale, all of which have been closed or downsized.
"All the drag strips have closed down," Miller lamented. "I'm bummed out."
The Los Angeles County Raceway, located off Avenue T, east of the Four Points swap meet, opened in 1964. It sits on property now being leased to Granite Construction company, which has a quarry in the area. That quarry has been encroaching on the drag strip for months and will engulf it completely later this summer.
"It's very sad that the Antelope Valley is losing a great landmark," said Mike Rodgers of Palmdale, who came Saturday to show off his 1931 Model A "Rat Rod."
"This is a venue for people to safely race their cars," Rodgers said. "On the street, there's no safety net."
Matt Mitchell of Green Valley , wearing a floppy Roth-inspired hat, used to race motorcycles at the raceway and said the facility's impending closure is "a shame."
"It's terrible," he said. "You can't race on the streets, and now there's nowhere to do it."
Mitchell came not only to see the raceway again, but also because he recently saw a documentary about Roth, called "Tales of the Rat Fink" on HBO. "After that, I had to come," he said.
Turnout at the annual event was good, but seemed more crowded than in previous years, Hillinger said, because the quarry has taken out large chunks of the raceway's parking space.
By , more than 300 show and drag cars had come, and cars full of spectators were lined up for nearly a mile outside of the raceway's entrance.
Hillinger said he doesn't know what will happen to the Rat Fink party next year - whether it will be held at another raceway or revert back to it's drag-less format of years ago.
"I like to play it by ear," he said.
While Hillinger doesn't know what's next for his event, Longjohn knows exactly what he'll be doing when the raceway closed down after next weekend.
The raceway will be open for racing on Wednesday, Friday, Saturday and Sunday, then close as Longjohn takes down equipment and prepares for an auction on Aug. 10 and 11. He'll be selling off everything from scoreboards to vehicles as he prepares for his next gig.
When all is said and done at the Los Angeles County Raceway, Longjohn will head east to Birmingham , Ala. , where he will run another drag strip - the Bama Dragway.
His wife is already there, setting up their new house and he will likely follow sometime around Labor Day.
"I've spend 30 years of my life here," Longjohn said from the raceway tower, the roar of drag engines in the background. "My friends, my family, my community - it's tough to leave."
As he reminisced, drag racer Chris Morgan shot off the line with a perfect reaction time - a rare drag-racing feat, to say the very least.
Every time a driver gets a perfect reaction time - accelerating off the line at just the right moment - he or she gets a special pin.
Holding one of the gold pins, which shows a drag strip's bank of starting lights, Longjohn said, "He'll probably get the last one at this race track."
For Photos and reviews from the show click here!
LACR ready to close, let the tribute begin
This story appeared in the Antelope Valley Press on Thursday, July 19, 2007 .
By BRIAN GOLDEN Valley Press Staff Writer
PALMDALE - The hopes for a miracle are over.
There will be no miracle (quarter) mile from Palmdale City Hall , no eleventh-hour reprieve from the earth movers for Los Angeles County Raceway.
So all that's left to do is put on the kick-ingest farewell party Palmdale has ever seen.
With LACR set to close after 43 years on July 29, Jeffrey Hillinger will now retool his efforts from "SAVE LACR" to "SALUTE LACR."
Hillinger is set to stage his "Moldy Marvin's Eighth Annual Ratfink Party and Kustom Kulture Extravaganza" this Saturday from
"It's a salute to Los Angeles County Raceway," said Hillinger, a graphics artist and movie studios special effects consultant who moved to Littlerock from Glendale to be closer to the drag racing landmark. "This will be the last big spectator event for Los Angeles County Raceway prior to its official closing date of July 29, 2007 .
"Our beloved track is scheduled to be torn down by the mining companies that own the mineral rights to the property. This will be out salute and sendoff to LACR. We hope the public will come."
The show features more than 300 pre-1973 vehicles, including hot rods, muscle cars, Klassics, Kustoms, VWs, Bikes, Trikes, motorcycles mini-bikes and even junior dragsters.
More than 50 vendors will be on hand selling everything from speed equipment vintage clothing to the finest Kustom Kulture Art in the industry.
The program will include a charity auction, live entertainment with a total of eight bands, tattoo and model-building contest and exhibition run by the Inferno Jet Truck.
The salute to LACR officially begins at Classic Industries will present its 1964 Chevrolet Impala SS specially built for the TV Show "Chop, Cut and Rebuild" seen on SPEED Channel.
Next, participants will parade their vehicles on the track and park them facing the crowd.
Luck of the Draw, one of the eight band, will then perform. That will be followed by a flamethrowing contest.
For the grand finale, there will be a reunion performance of Blazing Haley and a fire-eating demonstration by "Ton," a Guinness Book of World Records record-holder for human flame-throwing.
Officially, there will be one more weekend of drag racing, even as the curtain comes down on 43 years at LACR, one of only two dedicated dragstrips in California .
But next week's event is more for the racers themselves than spectators.
This weekend belongs to the fans who've supported LACR for five decades.
"This event has come to have a personality and a life of its own over the last eight years," Hillinger said. "But this year, it's all about LACR."
Rodders appeal to save raceway
This story appeared in the Antelope Valley Press on Monday, June 25, 2007.
By BOB WILSON
Valley Press Staff Writer

---
PALMDALE - Plans to excavate millions of dollars worth of rock, sand and gravel from beneath the region's only drag strip drove about 100 hot rodders to race to the City Council for help Wednesday.
Since Palmdale does not control the quarry land where the Los Angeles County Raceway rests, the city's options are limited, Palmdale City Manager Steve Williams said during a meeting of the City Council.
The land at issue is owned by the Lane family of Quartz Hill. It has been leased to the Watsonville-based Granite Construction Co. and a portion of it - until January - was subleased to raceway operator Bernie Longjohn.
Under its lease, Granite holds the rights to the minerals on the Lane property, and the company extracts those minerals to make concrete, asphalt, gravel and other construction-related products.
In recent months, the company's quarrying work has begun eating away at the edges of the drag strip, which is on the south side of Avenue T near 60th Street East.
The mining could force the 43-year-old track to close by July 29, said Hyatt, one of 27 people who pleaded for intervention by the city.
"Something needs to be done now" to keep the track open, Hyatt said. "Not only do we have street racers killing themselves, but they are also killing other people's family members" to satisfy their need to race, he said.
"Not until it hits home do you realize how important this track is," Hyatt said.
Steve Bridge, Palmdale area manager for Granite Construction, said he kept Longjohn apprised of the company's plans and intentions before and after Longjohn's sublease expired at the beginning of the year.
For the past decade, Granite has been working around Longjohn's operation to keep the track open as long as possible, but the date for the track's closure is Longjohn's decision, Bridge said.
"We've been working in noncritical areas for the past couple of months," he said. "We told him we could probably maintain the racetrack itself for several months longer, but not the parking area. At that point, he may feel it's not practical" to remain open.
"Frankly, I think Bernie has other plans, and he will set the (closure) date himself, not Granite," Bridge said.
Employees at the drag strip said Longjohn was unavailable for an interview Friday. In May, Longjohn told the Valley Press he was considering purchasing a racetrack in Birmingham, Ala. and relocating within months.
"If I were to guess a date, I'd have to say we'll be done by the first of October," Longjohn said at the time.
"What we've been doing out there has been no secret," Bridge said Friday. "We've had numbers of meetings, and I've sent letters to Bernie over the last couple of years about what we're doing, so this is no surprise to anybody."
"I know it's not a surprise to Bernie. I don't know about (the drag strip's) users," he said.
One of those users, Littlerock resident Jeff Hillinger, is heading up a "Save LACR" committee. Hillinger told the council that LACR is a long-standing business with a rich history.
"This is … a landmark that cannot be retrieved once it is taken," Hillinger said.
Organized drag racing has grown since the 1950s and '60s into a sport that is second only to NASCAR in popularity, and LACR has been part of that growth, he said.
LACR "is known to racers and fans throughout the western United States and beyond," Hillinger said. "Statistics show that there's a huge influx of illegal, unorganized and unsafe street racing … because all of the (racing) tracks that we built in the '50s and '60s are now being demolished in the name of profit and progress."
The demolition of those tracks has made retaining the remaining tracks even more important in an effort to move racing off the streets, he said.
Between the beginning of March and the end of May, at least 14 people have died in Southern California as a result of illegal street racing, Hillinger said.
In May, two people were killed and three more were injured while watching illegal street racing at Avenue G and 45th Street West.
All five were hit by a man who was driving a pickup truck that was not involved in the racing, according to Valley Press records.
Other speakers told the council that closing the track would force more hot-rodders to turn to the streets, endangering themselves and others while reducing business revenue and burdening law enforcement.
Mayor Jim Ledford said Williams had met with representatives of Granite Construction in an effort to determine what Palmdale could do.
Since there was no formal decision on the matter to be considered or made by City Council members on Wednesday, nothing was put on the agenda for a vote, Ledford said.
Because nothing was on the agenda, state law barred formal action by the council, the mayor said.
If and when a raceway item does come before the council, "there are some things that we could do that we would have to think very long and hard about," Williams said.
"We could acquire the rights to the land through eminent domain, but that is something I don't think we really want to look at because of the probable cost," the city manager said.
"The gravel value underneath this thing has a lot more value than just a regular piece of land, and I mean a lot more value," he said. "And it's not just the gravel value: It's also the value that the gravel brings to other parts of (Granite's) business."
In addition, "there would be some (legal) findings that we would need to go through" to potentially justify an eminent-domain acquisition in accordance with state law before such a move could be recommended to the City Council, Williams said.
"Another option would be for Granite to just find another area to excavate and obtain gravel out of the goodness of its heart and just leave the (drag strip) area alone, but given the value (of the minerals) underneath the racetrack, that's unlikely, based on conversations that I have had with Granite," he said.
In the long run, "it's pretty clear that it's inevitable that, even if there weren't this gravel-pit issue going on right now, if you look at the history of the other drag strips that have closed, eventually the same thing is going to happen to this one" because of encroachment by housing development, he said.
Ledford suggested the best solution might be to relocate the track to vacant land east of Air Force Plant 42. The land, owned by Los Angeles World Airports, is planned for industrial development that would protect a drag strip from residential encroachment, Ledford said.
On Friday, Bridge said Granite has run out of places to excavate the Lane property except beneath the racetrack and beneath the company's own on-site equipment.
Because of the expense of relocating the company's equipment to a different quarry, it will be the last place to be mined, Bridge said.
"We're at a point now where we don't have any options" except to mine the land under the track, he said.
If the city had been notified about the forthcoming problem last year, before closure was imminent, finding a solution for keeping the track open this summer "would be a lot more fruitful," Williams said.
Because of the value of the minerals in the area, the city "would be better off relocating the track, because it would be more economical than paying for the aggregate," Bridge said.
City council set to decide on LACR
This story appeared in the Antelope Valley Press on Wednesday, June 20, 2007.
By Brian Golden

Palmdale City Council members, start your meeting.

LACR lovers, start your engines.

And your voices, and your lungs.

Prayers wouldn't hurt, either.

The City Council will formally discuss the situation imperiling Los Angeles County Raceway Wednesday night.

Simply stated, Granite Construction has the aggregrate rights to the land upon which the historic 43-year-old drag strip sits.

The company has been a good corporate neighbor for two decades, working around the perimeter of the dragstrip and the adjoining motocross track. Since Granite Construction obtained title to the land owned by the Lane Family, there has been no deception about its ultimate intention for the property.

The motocross track, it should be noted, is unaffected by the digging that imperils LACR.

In fact, Granite has been something of a landscaping consultant to the motocross track. The track has moved in behind Granite's digging to add elevation changes along its course that merely further its motocross riding experience.

The drag strip is entirely another story.

It is a story that could properly be called drag-stripmining.

The news story earlier this week chronicled a street racing episode gone horribly wrong. There were multiple deaths.

"That's what happens when you force kids back onto the street," said Jeff Hilllinger, the irrepressible leader of SaveLACR.org. "They're seduced by these movies like 'Gone In 60 Seconds' that glorify street racing.

"We had an incident like that right here in Lancaster on the west side a few weeks back. This is not hysterics, it's the truth: that dragstrip at LACR saves lives."

Hillinger felt so strongly about LACR and the quality of life in surrounding environs, he sold his house in Glendale and relocated to Littlerock.

This is a man who designs websites, consults movie studios on special effects generation and runs about three other high-tech businesses on the property of his adopted hometown.

Hillinger is a metaphor for the unexpected benefits and assets the city will be burying if it chooses to let LACR disappear under Granite Construction's earth movers.

For a city - and a City Council - that has moved mountains and sold Mohammad on the results to make Palmdale the unquestioned capital of Los Angeles County's future, this would be a disappointment.

The remarkable men and women of Palmdale City Hall have accustomed us to greatness. They've dared us to dream big dreams, because one man's dream can become another man's nationally televised victory lap at Dover.

No wonder Ron Hornaday chose to live in Palmdale. Lots of winners have.

Where others saw abandoned scrub, Palmdale saw water parks and ampitheaters and softball meccas.

The time has come for some more vision.

Courageous vision.

At Hillinger's Save LACR rally two weeks ago, Palmdale Mayor Pro Tem Mike Dispensa and City Councilman Steven D. Hofbrauer showed up to profess their support.

Dispensa is a successful Valley businessman. Where others may only see the green lights of the start line Christmas tree, Councilman Dispensa sees the folding green disappearing into cash registers at hotels, motels, restaurants and gas stations.

He's been around our town long enough to know we don't walk away from winning business ventures.

These Palmdalers love a good fight. Especially when it's for a family and community.

LACR is worth fighting for, distinguished Palmdale City Council members.

It's worth having a place your Sheriff's Deputies can direct kids to as an alternative to deathly street racing.

It's worth having a place your hoteliers, restaurateurs and gas station owners may never set foot at, yet profit handsomely from.

City of Palmdale, you've blown away so many other people who tried to line up with you at that Christmas tree.

Like the City of Lancaster.

And all the other Rose Parade float award aspirants.

Hillinger is telling everyone this is LACR's last stand.

Honestly?

It looks hopeless.

The Save LACR types have come to the right place.

Put hopeless in one lane.

The Palmdale City Coucil in the other.

I'll take my chances.
Track backers to ask city to save raceway
BY GIDEON RUBIN, Staff Writer
Article Last Updated: 06/19/2007 10:27:26 PM PDT

PALMDALE - Backers of an imperiled Antelope Valley raceway say they'll take their case to City Hall tonight in a last-ditch effort to save one of Southern California's few remaining auto racing tracks.

The Los Angeles County Raceway sits on an east Palmdale parcel leased by Granite Construction, which plans to mine the land for concrete aggregates.

LACR supporters say they'll ask the council to buy the land or impose a moratorium on mining operations. Supporters fear that the 40-year-old dirt track will close this summer unless the council acts.

"There needs to be a solution," said Jeff Hillinger, who heads Save the LACR. "If they close it this summer, all those kids will be out on the streets."

Hillinger said the raceway keeps drag-racing enthusiasts off the streets and in a controlled environment while preserving an integral part of Southern California culture.

LACR is among six or so legal Southland racetracks and among just four that feature quarter-mile tracks; the others are an eighth of a mile long.

Hillinger predicted that the raceway's closure would lead to a spike in illegal street racing that would threaten public safety, and would negatively impact local businesses.


Hillinger said his group was energized by a June 1 rally at the track that he said attracted more than 200 supporters.

Granite Construction leases the parcel from a local owner and subleases land to the racetrack. LACR supporters acknowledge that until now, the company has done what it could to accommodate the racetrack.

Granite Construction manager Stephen Bridge said the company has been meeting with city officials about potential solutions, such as rebuilding the track on already mined property, or relocating it on city land.

Preserving the LACR at its current location seems unlikely, however, said Bridge, who concluded:

"It does not seem viable at this point."

IF YOU GO

The Palmdale council will meet at 7 tonight at City Hall, 38300 Sierra Highway.
The Rally in the Valley! June 1st 2007!!
Racers Rally to Save L.A. County Raceway in Palmdale
Phots by Moldy Marvin


(ABC Shows their support)

Raceway May Soon Be Demolished
KABC By Elsa Ramon


PALMDALE, June 1, 2007 (KABC-TV) - The popular L.A. County Raceway in Palmdale may soon be demolished. Drag racing fans rallied Friday in an effort to save that track.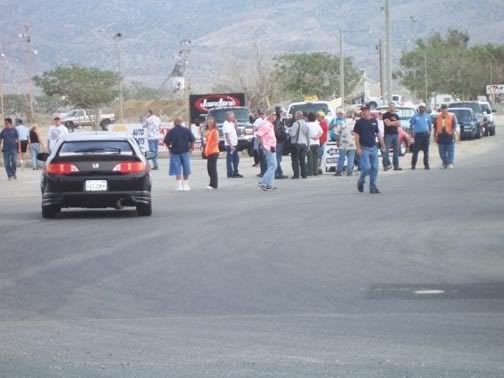 (People start to gather)


On Friday nights the L.A. County Raceway comes to life.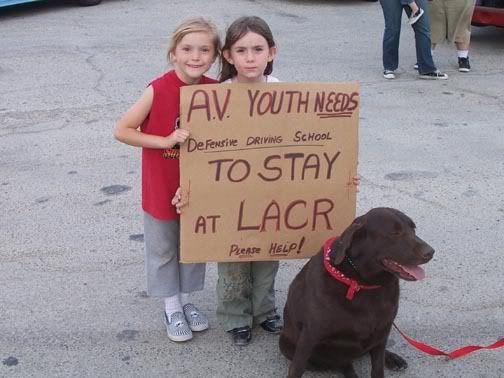 (Our Future)


Since 1965 if it revs, screeches, or burns rubber it's here on the asphalt, but the raceway's days are numbered, because of what's under the asphalt.

"Granite Construction has the mineral rights under this property here. The raceway has been leasing this property for decades and with the volume of construction and with the construction going crazy as it is, Granite Construction needs the gravel," Steve Hofbauer, of the Palmdale City Council, said.

Granite Construction is ready to dig up the raceway in July effectively destroying one of the last raceways in Southern California.
(Racer "English Dave" from the"Rod Tossers")


Jeffrey "Moldy" Hillinger has been coming to the raceway since he was a kid. He fears losing this outlet for amateur and experienced racers will force dragsters into dangerous, illegal street races.

"They've been in control of the property since 1987 and they've been very gracious and they've worked around the track all this time but now they're actually almost done processing the entire property and they want the gravel that's underneath the track," Hillinger said.

"I love racing here. It's a nice place to race but I mean they want to tear it up and we don't like it because there's not many tracks left in Southern California," Jeff Mack, a racing fan, said.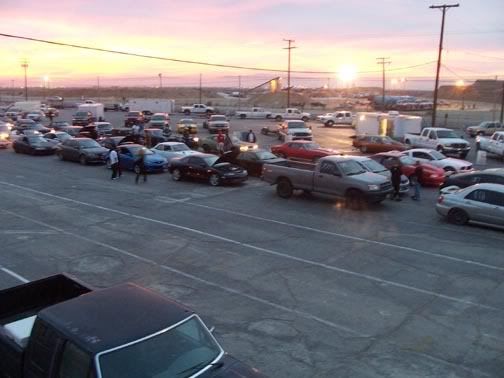 (Staging Starts, by the end of the evening there were over 200 registered racers)


New generations of racing hopefuls like Samantha Hyatt are worried they won't get their chance to burn rubber at the track.

"I think it's really sad you know because you know being a kid myself I'm like anxious to drive and there's nowhere to go but here," Hyatt said.

A lot of the people at the track on Friday said they were hoping that maybe the construction company could keep the doors open a little longer until they find another option.

Some of the people are thinking of asking to have the Terminal Island Raceway reopened.

Copyright © 2007 KABC-TV. All rights reserved.

http://www.abclocal.go.com/kabc/story?section=local&id=5361694

www.SaveLACR.org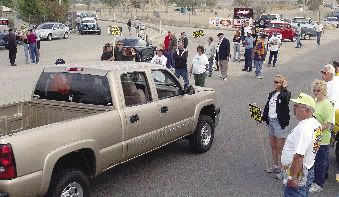 OUTLET FOR SPEED LOVERS - People attending a rally to save the Los Angeles County Raceway part for an incoming truck at the entrance to the raceway on Friday. The site has been popular for drag racing since 1964 but has been losing ground to nearby quarries.

BERNARD KANE/Valley Press
Raceway shutdown plan spurs protest
More than 100 supporters, classic cars turn out
This story appeared in the Antelope Valley Press on Saturday, June 2, 2007.

By TITUS GEE
Valley Press Staff Writer

PALMDALE - A protest opposing the expected shutdown of Los Angeles County Raceway drew more than 100 supporters and a dozen classic cars Friday evening.

The raceway, on Avenue T near 60th Street East, has been losing ground, literally, to nearby quarries run by Granite Construction, the owner of the land where drag racers and others have tested their mettle for more than four decades. Raceway supporters rallied near the entrance to the raceway to gather support for efforts to stop the mining that soon will push the raceway out.

"There are racers, fans, moms, dads and kids. We don't want the race track to close," said Tim Shpall , one of the organizers of Save LACR, a group dedicated to preserving the raceway.

"This track has been here since 1964. It's literally a piece of drag racing history," Shpall said.

He said the effort had attracted 1,700 MySpace friends and more than 300 e-mails about the protest rally, including messages from drivers in every corner of the Southland and several back East as well.

The protest drew area television and radio crews, as well as politicians including Palmdale Mayor Pro Tem Mike Dispenza, who reportedly is working on a deal with Granite that could save the track.

Protesters said legal area racetracks improve road safety by giving power lovers a place to burn off some steam.

"This is an age of performance. Everybody wants their vehicle to perform," said Deputy Scott Graham of the Antelope Valley anti-gang unit. "You gotta have somewhere local; otherwise they're going to do it on the street."

Graham stood near a tricked-out Plymouth Barracuda painted like a sheriff's radio car, complete with lights and capable of 153 mph. He said he and the car were part of an event called "Beat the Heat" that pits deputies against the area kids.

"Local racers can come out and race us and not get a ticket," he said.

Without such outlets for speed lovers, Graham said, traffic collisions and vehicle deaths would increase. Long stretches of back desert could be especially tempting for street racers with no nearby track, he said.

Don Jameson of Lancaster said drag racing on the track kept his son from getting in that kind of trouble. He brought his '57 Chevy panel truck to the rally.

"My kid had his driver's license about three months. He was starting to get comfortable, and I brought him out here and taught him how to do this," Jameson said. "Now he's 21, and he never had any problems" with traffic tickets of accidents.

"Show 'em there's a place to do that," he added. "Get it out of (their) system."

Recently some have been calling for the raceway to be relocated.

Jeff "Moldy" Hillinger , an area drag racer and custom car builder who started Save LACR, would like to see Granite Construction help move the track into "the hole" where mining already has been completed.

The company has mined more than 200 acres of property adjoining the raceway since 1987. They worked around the racetrack for as long as possible before strip-mining parking areas and the pits.

Hillinger said that land has to be reclaimed to some purpose, and the area already has been approved for racing. If the raceway must move to another site, Save LACR wants to see the mining stop long enough for the solution to be implemented, he said.
DAYDREAMING - Jeff Hillinger looks to the edge of the LACR drag strip where Granite Construction's quarry threatens to consume the race facility.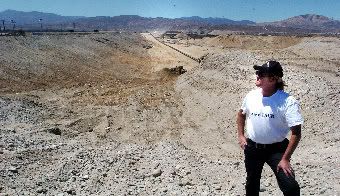 GENE BRECKNER/Valley Press

Man on a Mission
Jeff Hillinger fights to save LACR from demolition
This story appeared in the Antelope Valley Press on Thursday, May 31, 2007.

By BRIAN GOLDEN
Valley Press Staff Writer

Jeff Hillinger's creativity is irrepressible.

Graphic design wasn't big enough to satisfy it. Neither was restoring classic cars.

Nor, was consulting Hollywood movie studios on digital special effects generation.

Theme park design didn't fulfill him completely, either.

At last, though, Hillinger has found something worthy of his talents, energy and vision.

He wants to save Los Angeles County Raceway in Littlerock from extinction.

Hillinger, 50, is organizing a Save LACR Rally for Friday at 6 p.m. at the front gate of the drag strip at 6058 East Avenue T.

The Glendale native, whose love of the high desert region inspired him to sell his house there and relocate to Littlerock five years ago, has had a savelacr.org Web site up and running for over a year.

Yeah, he designs Web sites, too.

And his vision has a perfect canvas for imagination in the 43-year-old dragstrip, which opened the same year as Phoenix International Raceway did .

Where most merely see a dragstrip surrounded on all sides by Granite Construction's massive strip mine that would inevitably consume it, Hillinger sees a preserved race track.

And a drive-in theater. And an ampitheater, and a thriving commercial center to suit the needs of eastsiders for whom the Antelope Valley Mall is a trek.

"They're concepts," Hillinger said, "and concepts aren't going to work until you get Granite to agree to it."

Granite Construction has mined more than 200 acres of the adjoining property since 1987. They worked around the racetrack for as long as possible, before strip-mining parking areas and the pits.

"Granite has been very gracious," Hillinger said. "They've been good neighbors in the community.

"The question they have to answer now is, whether the gravel under the ground is worth more than the countless numbers of lives it's saved over the years, and the number it could save in the future?"

Hillinger refers to the track providing a safe alternative to street racing.

In his press release announcing the Save LACR Rally, Hillinger cites a May 20 Valley Press news story in which two people were killed by a hit-and-run driver as they watched an illegal drag race at 1 AM at 45th Street West and Avenue G.

"I remember shows last summer when we had more than 80 teenagers out drag racing in a safe, controlled environment," Hillinger said. "If LACR's not there, you're forcing those kids to drive to Irwindale, or California Speedway in Fontana.

"Or, you're forcing them back onto the streets."

Hillinger was scrambling to come up with statistics for a radio talk show appearance to illustrate the safety factor of the drag racing program at LACR.

One index, he noted, was the number of passes Los Angeles County Sheriff's Deputies hand out along with warnings when they pull over young drivers.

The LASD has a drag racing program of its own at LACR, as does the track itself.

The more controlled, organized settings for drag racing there are in the Valley, Hillinger said, the less the influence of movies like the "The Fast and the Furious" that glamorize illegal street racing.

"It's all about influencing young people," Hillinger said. "There's a better, safer way to do it than being out on 45th Street West at 1 in the morning.

"Plus, wouldn't you rather have a trophy than a ticket? Or worse?"

Hillinger has mobilized LACR's many racing clubs for Friday's rally. The So Cal Pro Gas Association, So Cal Super Street Association, SCEDA, Pontiac Drag Club, Buick Grand National Club, So Cal Super Comp Association, West Coast Corvette Club, the American Nostalgia Racing Association, Road Kings and the Early Riders Club.

LACR is also home to the Hollywood Stunt School and the Motion Picture Driving Clinic. The raceway's annual Thanksgiving weekend "Day in the Dirt" charity event, the Hollywood stunt men's annual motorcycle Olympics, has attracted racing stars from Paul Tracy to Jeff Ward.

Hillinger hopes history, tradition and community sensitivity can forestall Granite Construction long enough to find a compromise the mining company, the city and the racers can work out.

"I love this town, I love Littlerock," Hillinger said. "I know Granite does, and I know the city does. We can do this.

"I can see it."
Is raceway in final lap?
Mining company that owns land needs to work it
BY GIDEON RUBIN, Staff Writer
Article Last Updated: 05/30/2007 06:30:55 PM PDT


PALMDALE - With the future of the Los Angeles County Raceway in serious jeopardy, its supporters are mounting a last-ditch effort to save it from becoming a dig site for an adjacent mining operation.

The raceway, which sits on 235 acres in east Palmdale, is subleasing its land from Granite Construction, which has seen its business - mining aggregate used to make concrete - explode with the Antelope Valley's building boom.

Having Granite expand its operations to the drag-racing land has been a possibility for years, company officials said.

But that possibility could become reality in a matter of months, so raceway supporters are fighting back. They will hold the Rally in the Valley at 6 p.m. Friday at the raceway.

"Granite Construction says they're `community-oriented,"' LACR General Manager Bernie Longjohn said. "Hopefully, that rock in the ground isn't more important than this community."

LACR proponents say saving the raceway is essential to maintaining proper conditions for area drag racers to compete in a safe and legal venue.

Granite officials say they've tried to accommodate the raceway's interests for years, but are obligated to mine aggregate the Antelope Valley needs Advertisement to keep up with its explosive growth.

Rally organizer Jeffrey Hillinger cited a May 20 incident on a Lancaster street in which two spectators were killed and three others seriously injured by a driver sheriff's deputies say was drunk as an example of the dangers participants and fans face attending illegal street-racing events.

He said such events will grow exponentially if the racetrack is closed.

"If we take away the track, there would absolutely be no place for the kids to go other than the streets," Hillinger said. "They'd have no alternative."

Raceway supporters want Granite to put a moratorium on its mining until a solution is reached. Although prospects of saving the raceway are bleak - Granite officials say they could start mining the land where the track now sits later this year - raceway supporters remain hopeful that the city can reach a deal with the company to purchase the land.

Longjohn said he needs a strip of land about 5,200 feet long and 60 feet wide to accommodate the raceway. The best options are keeping the track on its existing parcel or finding new land. Building on land already mined would expose the track to unacceptable dust levels, he said.

Granite Construction Area Manager Stephen Bridge said his company is working with Longjohn to find an alternative.

Bridge said company representatives met with Longjohn and Palmdale city officials Tuesday night in talks aimed at preserving or relocating the racetrack.

"We are definitely community-minded and we're sympathetic to the people who use the racetrack," Bridge said. "We're open-minded to working with the city or Bernie (Longjohn) to keep the racetrack open as long as possible."

Bridge said LACR officials have known for years that the company's mining interests would eventually encroach upon the raceway, he added.

And with the Antelope Valley's construction boom over the past decade, and more building on the way - the 7,200-home Ritter Ranch and 5,000-home Anaverde housing developments and five schools are currently under construction, and a 150-acre Amargosa Creek Lancaster development is under consideration - the time has come.

City Manager Steve Williams said the city will do what it can to save the raceway.

"We're very interested in supporting them in their effort to keep the racetrack open, but we need to know all available options before we can say what our involvement may or may not be," Williams said.
SOON A MEMORY? - Bernie Longjohn, owner of the Los Angeles County Raceway, looks out over his racetrack in Littlerock that may soon become a memory due to a nearby quarry expansion project.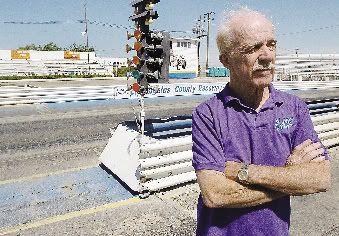 EVELYN KRISTO/Valley Press

Raceways days are now numbered after 43 years
This story appeared in the Antelope Valley Press on Monday, May 28, 2007.

By JAMES RUFUS KOREN
Valley Press Staff Writer

PALMDALE - For 43 years, the thunder of engines has echoed from the Los Angeles County Raceway.

Short of a miracle or intervention from the city, though, that thunder will cease sometime in the next few months.

"If I were to guess a date, I'd have to say we'll be done by the first of October," said Bernie Longjohn, who has operated the drag strip since 1980.

The raceway, located off Avenue T near 60th Street East, is surrounded by quarries and sits on land leased from Granite Construction. By autumn, or even late this summer, Granite's quarry will overtake the raceway - the parking lot, the bleachers and, finally, the drag strip itself.

Longjohn said there is still a chance, albeit slim, that the raceway will survive. Palmdale Mayor Pro Tem Mike Dispenza is working on hashing out a deal with Granite, and a local racer has started an organization to lobby for the raceway to remain.

"Things are moving in a positive direction," Dispenza said. "We need to bring other people into the fold, and we should know some things in the next week or two."

Jeff "Moldy" Hillinger, a local drag racer and custom car builder, started Save Los Angeles County Raceway, a group that will hold a rally at the raceway on Friday, June 1.

Hillinger said the raceway is important: if racing buffs don't have a place to get their speed fix legally, they'll just race on the street.

"If they're out on the street, they can lose their car," he said. "Even if a kid is just spectating, he can get fined $300. Would you rather do that or pay $20 and go drag race where it's legal?"

Longjohn agreed that street racing will only go up if the raceway closes. One of the most popular nights at the raceway is Wednesday, when teens and younger drivers bring in their souped-up import autos to race.

"If those kids don't have someplace legal to race, street racing is really gonna get out of hand," Longjohn said.

Although he wants the raceway to carry on, Longjohn doesn't fault Granite for quarrying and, in fact, said the company has been accommodating, leaving vital areas of the raceway untouched thus far.

"They've been nice about it," he said. "It appears they're trying to make things work as long as possible."

But already, the massive pit has overtaken the raceway's back gate, a sizeable chunk of the parking lot and several sets of bleachers. Along the right side, most of the 4,200-foot drag strip butts up against the quarry.

Even without digging up the drag strip and parking lot, though, the quarry is making the raceway's continued existence an ever more expensive and difficult proposition.

The parking lot is a fraction of its former size, so the raceway can physically contain fewer cars and drivers. Spectator space, too, is limited.

Bleachers used to line the strip's right side, but Longjohn started taking bleachers out this winter as Granite's hole continued its northward march toward the raceway tower and starting line.

"When I started taking seats down in February, that was a dose of reality," Longjohn said.

The raceway has safety concerns as well - blowing dust from Granite's quarry coats the drag strip, a hazard when cars are barreling down the track.

"That really started early this year, and we have to clean the strip 10 times more often than we used to," Longjohn said.

Before events, Longjohn applies an adhesive, or traction compound, to the lanes. Because of the dust, he says he has to use a 55-gallon, $800 drum of traction compound for every event.

"Even if the city did an agreement with Granite, the dust is making this place an expensive proposition," Longjohn said.

Already, the raceway, which opened in 1964, has lost eight of its annual events to other facilities, and organizers from another event told Longjohn that when his raceway closes down, the event, too, will be no more.

"The 37th annual Antique Nationals is here on the first Sunday in June," Longjohn said. "They're not going to do it once this shuts down."

Longjohn said Granite's quarry will overtake the rest of the raceway by this fall, but that he might have to shut it down sooner than that when parking and dust become too problematic.

He's still hopeful for a deal to save the raceway, but he's also making contingency plans.

"I have a friend who offered to sell me his racetrack in Birmingham, Alabama," Longjohn said. "Short of a miracle, four of five months from now, I'll be leaving for Alabama."
LACR in peril of eradication without help

This story appeared in the Antelope Valley Press on Thursday, May 24, 2007.


To try and stop the further closure of more drag strips in Los Angeles County, a "Save LACR Rally" will be held on June 1 in front of the Los Angeles County Raceway in Palmdale.

The LACR has served the Valley and surrounding communities for more than 40 years and has hosted a number of racing associations, including The SoCal Pro Gas Association, the SoCal Super Street Association and The Buick Grand National Club. It is also home to the Motion Picture Driving Clinic, a Hollywood stunt school.

"Due to the 'mining of aggregate by 'Granite Construction' next door to LACR, the Drag Strip is doomed unless (residents) help," said Jeff Hillinger of the LACR Committee in a release.

The rally will be held at 6 p.m. and all racers, kids, parents, law enforcement and city officials who want to try and protect Palmdale's raceway are encouraged to show their support.


2 Killed in Hit-and-Run at Lancaster Street Race Driver Followed by Witnesses


LANCASTER, May 20, 2007 (CNS) - Two young people watching a car race in Lancaster were killed Sunday when they were struck by a hit-and-run driver, and three other youths were injured, a sheriff's lieutenant said.


The accident in an industrial area near the General William J. Fox Airfield, popular among street racers, occurred about 1 a.m. at 45th Street West and Avenue G, said Los Angeles County sheriff's Lt. David Oliva of the Lancaster Station.

The victims were watching a race when they were struck by a Chevrolet pickup, Oliva said.

The driver, a man about 40 years old, sped away and was followed by witnesses, Oliva said.

Deputies stopped the pickup driver at 90th Street West and Avenue E-8 a short time later and took him into custody, he said.

Two people, whose names were withheld, died at the scene, the lieutenant said.

One person was taken to Providence Holy Cross Medical Center in Mission Hills in critical condition, he said.

Two other people were taken to a hospital with lesser injuries, he said.

Copyright © 2007 KABC-TV and City News Service (CNS). All rights reserved.

Click here to see the Fox news cast on this tragedy



Sun Valley street race kills two.

Re-Print LA Times 10/05/04 - By Robert Chacon, News-Press

Counselors help students cope with loss of Village Christian classmates killed in La Tuna Canyon crash. SUN VALLEY — A Glendale teenager hurt in the alleged street race Friday was getting better Monday as Los Angeles detectives continued their search for the driver of a second vehicle involved in the crash.

The driver of one of the cars, Michael Lee, 17, was upgraded from critical to fair condition at Providence Holy Cross Medical Center, authorities said. He underwent emergency brain surgery after the Friday afternoon crash on La Tuna Canyon Road that left two passengers in his car dead. All three attended Village Christian School in Sun Valley.

The passengers in Lee's car who died were Christopher Oliver, 17, of La Crescenta and Nicholas Roth, 17, of Granada Hills.

Los Angeles Police detectives are still searching for the driver of a Ford F-150 truck that witnesses say was racing against the car that Lee was driving, Det. William Bustos said, adding that police have not identified the driver.

"We are in the process of trying to determine exactly what happened, if there was a crime," he said. "We are interviewing witnesses who saw what happened."

If the investigation concludes that both drivers were involved in an illegal street race, drivers of both vehicles will be arrested for manslaughter, Bustos said.

The mood at Village Christian School was solemn Monday, school officials said.

"Our students are saddened, sober and prayerful," Director of Admissions Patricia Smart said.

Close to 40 counselors from the school, the Los Angeles Department of Health, and private counselors who volunteered, were on campus Monday to help students deal with the deaths of their classmates.

"They are giving students the opportunity to talk and to process what happened, to share memories and emotions, and the faculty is doing the same in the class," said Susan Odekerken, a school employee who helped coordinate the crisis response.

Michael and Nicholas were on Village Christian's varsity football team. The school canceled Friday night's game. A memorial for Christopher and Nicholas had formed at the entrance to the boy's locker room Monday.

The football team came together for practice Monday.

"When we got together today at 3 o'clock, I told the guys, 'As tough as it is, we have to get back to our normal routine.' We talked about what those guys would have wanted and how we would honor that," Coach Marty Martin said. "The players will wear a sticker with the number 54 on the back of their helmets for Nick, and a CO for Chris. He was not part of our team, but he was part of our family."
Driver, 18, fatally injured in fiery street-racing crash Second motorist arrested after summoning police.

Re-Print Los Angeles Daily News Wednesday, September 01, 2004
By Jason Kandel - Staff Writer

WOODLAND HILLS -- Just one day before his 19th birthday, a Van Nuys man was fatally injured during a street race early Wednesday when he lost control of his car, which slammed into a tree and ricocheted off two parked cars that burst into flames. Aram Aleksanyan, who worked at Fry's Electronics in Woodland Hills, was involved in the crash on Victory Boulevard near Friar Street. Police officers pulled him out of his mangled Acura Legend as flames closed in around his car. He was taken to an area hospital where he died about 2 a.m.

The crash saddened and frustrated local law enforcement officials, who have been working diligently to halt the rising trend of traffic fatalities in the Valley.

"Here again we've had another senseless death on the streets of the San Fernando Valley," said LAPD Deputy Chief Ronald Bergmann, who heads the Valley Bureau. "When is it going to stop? People need to drive like their life depends on it because it does."

The man who was racing Aleksanyan, Louis Blaine Rodgers, 24, of Reseda, stopped his car after the crash, went back to the scene and summoned police from his cell phone. Rodgers had been drinking at a Woodland Hills eatery just before the crash, said Los Angeles Police Department Capt. Greg Meyer, who supervises the Valley Traffic Division. Rodgers was booked into the Van Nuys Jail on suspicion of vehicular manslaughter with gross negligence and driving under the influence. His bail was set at $100,000.

Police believe that the men, who did not know each other, began racing at the intersection of Victory Boulevard and Mason Avenue, heading east at 70 mph through a narrow S-curve at Topham Street where Aleksanyan lost control of his vehicle. Residents ran to the fiery scene and Kima Eslami, 40, grabbed his digital video camera. "Fire was very close," said Eslami, who dropped his camera to help when he realized someone was inside the wreckage. "Nobody could get close to the car. We were trying to help him, but we could not take him out. We waited for the LAPD." Officials used the death as a rallying cry for additional traffic patrols in the Valley, which historically outpaces the rest of the city in traffic crashes because of its long, straight streets.

And while police have effectively cracked down on organized street racing events, in which hundreds of spectators come to watch, they acknowledge that spontaneous racing events are difficult to police. "They meet at a red light. They eyeball each other. They gun their engines. They go for it," Meyer said. "Sometimes there's a police officer around. We catch one or both of them. We put them in jail, and we take away their car for at least 30 days." City Councilwoman Wendy Greuel sponsored legislation that seizes the cars of racers and cites race spectators, but it has little effect over spontaneous races.

"We've made a big change in organized street racing," she said. "But today we're sending another message: One foolish choice and you will not only lose your car, you will lose your life." Wednesday's incident was the first death related to street racing in Los Angeles since last June when four people died in three crashes over a three-week period after the movie "Too Fast Too Furious" came out. On Monday, two 17-year-old boys were injured in a street race in the Orange County community of Laguna Niguel. One remains in extremely critical condition.

Overall, traffic-related deaths in the Valley have jumped 8 percent, totaling 65 so far this year, compared with 57 in the same period last year.

Aleksanyan had worked as a clerk in the computer accessories department at Fry's in Woodland Hills since April. He would have turned 19 today.

Fry's spokesman Manuel Valerio said the company was saddened by the loss, and for the associates he worked closely with in Woodland Hills. "We extend our sympathies to his family," Valerio said. "We are saddened that anyone would die like this at such a young age, and so tragically." City Councilman Dennis Zine, who represents the West Valley area, expressed frustration at the latest traffic-related death, and vowed to make a motion next week at a City Council meeting to ask Chief William Bratton for more traffic officers to be deployed to the Valley.

"There's no winners in this," Zine said. "The families are going to be losing. Law enforcement suffers another casualty. Our condolences to the family."


Drag-race watchers could be cited

Re-Print Antelope Valley Press December 29, 2003.
By BOB WILSON - Valley Press Staff Writer

PALMDALE - People who congregate on streets and roadways to watch illegal drag races could be ticketed and penalized under an ordinance before the City Council.
The council already has given the new regulation the first of two required approvals.
The vote for final approval is expected to come Jan. 14.

If adopted, the ordinance would give Los Angeles County sheriff's deputies the authority to issue tickets for either infractions or misdemeanor violations, said Cesar Bertaud, the city's assistant city attorney.
Those found guilty of infractions may be fined $100 or the first offense, $200 for the second offense and $500 for the third offense, Bertaud said.

Those found guilty of misdemeanor violations may be fined up to a maximum or $1,000 or sentenced up to a maximum of one year in county jail, he said.

At some point, under another ordinance yet to be brought forward, the vehicles of spectators who gather to witness drag races might be subjected to impoundment or forfeiture, Bertaud said.

For now, and to get the ordinance on the books, the city would impose only the typical penalties available, he said.
The ordinance was considered late during the council's Dec. 10 meeting.
At the time, only a newspaper reporter and one member of the public were in attendance, and the proposal drew no public comment.

The proposal was approved 4-0 in the absence of Mayor Pro Tem Mike Dispenza.
As approved, the ordinance would make it illegal for any person to "be knowingly present as a spectator at any illegal motor-vehicle speed contest or exhibition of speed conducted on a public street or highway."

The ordinance defined a spectator as "any person who is present … for the purpose of viewing, observing, watching or witnessing the event as it progresses." A spectator would be "any person at the location of the (racing) event without regard to whether the person arrived at the event by driving a vehicle, riding as a passenger in a vehicle, walking or arriving by some other means," the proposal showed.

A person would be considered present at an illegal speed contest if he or she "is within 150 feet of the location of the event, or within 150 feet of the street or highway where preparations are being made for the event."

Preparations for an illegal speed contest included situations where people: had arrived as a group at a predetermined location to an event; were lined up on one or both sides of a street or highway to watch an event; had impeded the free public use of a street or highway by actions, words or physical barrier for the purpose of conducting an event; were in a vicinity where two or more vehicles had lined up with motors running to participate in an event.
KEEP IT AT THE TRACK!

Marissa's Story

Hello my name is Marissa Vargas. I am writing to let people hear my story, maybe to show people that street racing should not be tolerated. Some would say that as long as they're responsible
enough and have the right driving skills that it's ok. Or if they are on a clear road! Well none of these matter when it really comes down to it. From my experience I would know! So here's my story about why I'm against street racing!

There was once a time when I was all for street racing. Well night I decided to race, thinking it was ok! I mean there weren't any cars around, just me and my opponent. I figured: "what's one race??".
This one race has definitely changed my mind forever about street racing. I was on the starting line getting ready. I was in my civic hatchback with three friends of my friends. I had been doing this for awhile now and didn't really think anything of it.

So there we are and we take off full speed, almost at the end of the road, I'm hitting 110mph when my friend yells at me to slow down. Not being an experienced enough racer, I hit the brakes, my front wheels lock and my car slides all the way around facing the opposite way and goes flying off a twenty foot cliff. The results of this one little street race was having my car impounded, totaled I might add, me having to go to court with two misdemeanors, also facing a charge of reckless driving which here in Ventura County is automatic jail time. Also the injuries of my friends that were with me, one with a broken rib and 25 stitches to his left arm, the other with a broken collar bone, the other with a concussion, and me with permanent damage to my left shoulder.

All of this could have been prevented if I would have just taken it to the track. I used to be that person who ignored all of the street racing warnings up until this moment. This is my story....my advice to all the racers out there! KEEP IT AT THE TRACK!!

If you'd like to get a hold of me or have any more questions you may e-mail me at issa_celicagurl8@yahoo.com
Youths, Cops in Raceway Program

This story appeared in the Antelope Valley Press March 18, 2002.
By RYAN CHADDICK Special to The Valley Press

Picture By Jim (Jake) Jacobson - Sierra Auto Body


PALMDALE - Under normal circumstances, having a police car follow you at high speeds with red and blue lights flashing is a problem. Not so for Desert Winds High School graduate Jake Sorensen, at least not on a recent Friday afternoon.

On that day, Sorensen raced Detective Steve Crowell of the Los Angeles Police School Association in a demonstration race supporting the legal racing organization West Coast Super Cops at the Los Angeles County Raceway. It wasn't so long ago that police cars were a fairly common sight in Sorensen's rear-view mirror. The continuation school graduate said he was a "screw-up" until he moved to Desert Winds three years ago and met auto technology teacher Dave Otis.
Otis purchased a 1969 Chevrolet Nova several years ago and donated it to Desert Winds because, he said, he wanted to start a project that would help build his students' lives.

Having the car to work on altered Sorensen's life.
"(Building) this car got my head straight," Sorensen said. "Most guys who put this car together were misfits in other schools. This project has helped a lot of us."

Otis spoke highly of all his students.
"This is an educational process," Otis said. "It's exciting to see these young men develop.
"The students have done (the majority) of the work," he added. "They stripped the car down to almost nothing and completely rebuilt it to meet the National Hot Rod Racing Association regulations."

The Nova's paint job was donated by Sierra Auto Body shop.
Sorensen is the first student to race the Nova on the quarter-mile track at the raceway. He beat the police car he was racing with a 12.93-second finish.

This is the kind of story the West Coast Super Cops love to hear.
"As a result of all the street racing deaths, (many police departments from Southern California) have gotten together to form the West Coast Super Cops," said Officer Thomas Gibby of the Monterey Park Police Department. "Our mission is to meet kids and tell them of the dangers of illegal street racing," Gibby said. "This track is a drug- and alcohol-free place to be."

The Los Angeles County Raceway - an NHRA championship drag strip on Avenue T just east of 70th Street East - was set up to do just that - keep kids off the streets.
Owner Bernie Longjohn said he is trying to keep kids interested in something other than illegal street racing. "We have a program with Los Angeles police departments trying to keep kids racing in a safe environment," Longjohn said. "We give police departments free tickets (to race on the LACR track)," said Longjohn. "They give the tickets to kids to show them a place where they can race legally and safe." Many feel the program is working.

Said Sorensen: "This is a place that is cheap ($10) and legal to race."
Another Desert Winds graduate, Mike Azeuedo, said LACR provides great entertainment. "You can race a cop and not get into trouble," Azeuedo said.

The raceway is open to young adults interested in racing from 5 to 10 p.m. each Wednesday and Friday night. According to Longjohn, 600 to 800 participants typically come to race or watch.
LACR also has a Web site http://www.lacr.net/ on which more information about events and outings is posted.
Street race turns deadly in Dana Point


Reprint From The Orange County Register November 28, 2001
By KELLY TOKARSKI

DANA POINT -- Jeanne Bridges was delighted when her son came into Tommy's, the San Clemente restaurant where she works. Though they're close, the late afternoon visit from Raymond Scott Shelly on Monday was unusual.

"For some strange reason, he came in for dinner, and I waited on him while he happily sat reading the paper," said Bridges, 60, of San Clemente. "He was my right arm and the best son I could ever ask for." It was the last time Bridges would see him alive.

Shelly, 40, of San Clemente, was killed four hours later when his green Dodge Caravan was propelled 120 feet and set ablaze after being hit by a yellow Mustang that was racing a black Mustang on a busy street in Dana Point, authorities said.

His friend and passenger, Jose Valverde of Dana Point, also was killed. Authorities did not release the names, but family members confirmed the identities.

Erin Gormley, 18, of San Clemente was arrested on suspicion of vehicular manslaughter and driving under the influence of alcohol and marijuana, police said. She was released on $50,000 bail Tuesday afternoon after a night at the Orange County Women's Jail. Gormley and a 17-year-old female passenger in a yellow Mustang convertible were racing with a black Mustang about 9:40 p.m. on Del Obispo Street, sheriff's spokesman Jim Amormino said. As they rounded a curb near Quail Run, a minivan pulled out and Gormley struck the van on the passenger side, Amormino said. The impact flipped the van on its side, and it caught fire. Neighbors tried to help the van's passengers escape but were beaten back by the flames. The two men died at the scene. Gormley, a San Clemente High School graduate, and her passenger were treated for moderate injuries at Mission Hospital, including a fractured foot Gormley suffered during the crash, and released. Gormley's family declined to comment. Amormino said police are searching for the black Mustang, which sped off after the crash.

The accident follows the death of 16-year-old Steven Katzenberger, killed in September when his Mitsubishi Eclipse slammed into a tree during a street race on Camino del Avion in Laguna Niguel. And Jose Estrada and his 6-year-old daughter Michelle were killed on Flower Street in Santa Ana when they were hit head-on by a street racer in August.

Amormino said it's unusual that a female driver was involved.

Dana Hills High student Ashley Daugherty, 17, said street racing among teens is more common than people think. "I think it's horrible, and we've all tried to get our friends to stop racing," Daugherty said. "It's mostly the boys, not girls, that do it. I know a lot of boys do." The problem, authorities say, is that street racing is glamorized by everything from this summer's release of the movie "The Fast and the Furious" to car clubs centered around tricked-up subcompact import cars made to be lighter, faster and visually attractive.

"We have not had a lot come to our attention of late, but at one time it (street racing) was a problem - right after that movie came out," said Lt. Sam Allevato of the Irvine Police Department. "But it's seemed to trail off for us." The Irvine department formed a task force about eight months ago to deal with organized street racing in the east industrial area of Irvine after arresting teens street racing late at night, he said. Since then, and as word of the task force spread, the problem has lessened, he said.

Professional race-car driver and instructor Carl McGinn of Driving Concepts International in Monarch Beach said most people don't have the skills to deal with high-speed driving. "It's one of those issues when you get alcohol involved, kids are more inclined to be competitive, and when you have two cars of the same make, they become more competitive," he said. "I would imagine that's what happened."
Tanya Schwied, 17, said the competition wasn't worth it. "You hear about it and how it's fun, especially if a guy wants to show off his new car," she said. "But there's other ways to prove your masculinity than putting others at risk. And I guess that works for guys - and girls."

Bridges, the mother who lost her son this week, took a candle and a cross to the accident site Tuesday night, adding to the flowers that some had put up during the day. "I want to put these things up to warn other drivers that are trying to drag down the street," she said. "Maybe it might make people stop and think before they do any more of this craziness. "Scotty is the third son that I've lost," she said, tearfully referring to her 5-year-old son and infant who died years ago. Bridges said she was informed of her son's death Tuesday morning. Bridges said he was named after his grandfather - who was killed by a drunken driver. She said Shelly told her before leaving the restaurant Monday that he was going to pick up Valverde and go riding around for a while. Shelly was a talented sous chef who aspired for a job on a cruise ship and had just gotten his passport, Bridges said. In the meantime, he was working as a maintenance manager at the San Clemente Inn and spent his free time tutoring children. He was single and had no children.
Jenny Valverde, 19, daughter of Jose Valverde, said she awoke Tuesday morning to the news of his death. She said he is also survived by his wife, Hildi, and son Nick, 16.

Register staff writer Jessica Peralta and news researcher Eugene Balk contributed to this report.
It Happens All Over The U.S.


I live in Sioux City Iowa and attended illegal street races. Yes I did race but not anymore, not after seeing what I saw.

Now incase you didn't know a popular place to race is on a long industrial road where their are train tracks. The usually mark the end of the race or the beginning. I have seen this in many cities before.

Ok,now what happened was a 66" Impala was racing down the strip and broke his U-joint and dropped his drive shaft at the end of the race. I'm not sure if he knew he did but it didn't look like he did. Just as they hit the train tracks the drive shaft caught one of the rails and threw the car out of control causing him to hit the other car he was racing. Neither of them were injured but could of been injured very badly. Even though I drive a front wheel drive car and don't have a drive shaft I still won't race, just because that made me think, what if something were to happen, there's no one around and it would take an ambulance at least 20 minutes to get to where we race at.

And that's something a lot of racers should think about before they do it. But at least if your going to do it, make sure you buckle up or even carry a fire extinguisher like some out there did, my self included.
Raceway a safe place to get a move on!


Reprint from the Los Angeles Daily News 8/15/2001
By Aaron Levine
Staff Writer
PALMADALE- Littlerock's Ernie Narez sat in his 1990 Acura Integra, anticipating the green light.

The 19-year-old revved his engine, the roar of his motor drowning the sound of the wind blowing across the Antelope Valley.

But Narez was not worried about being caught by the police. He wasn't afraid that it is illegal to drag race on public streets. And although Narez doesn't race often, he was not concerned about injuries.

He didn't have to be.

Narez was at the L.A. County Raceway in Palmdale, where driving fast is legal and medical assistance is close at hand.

"It's just a rush to go so fast," Narez said, smiling, after he went down the quarter-mile track.

When novices such as Narez or race aficionados arrive at this safe haven, located in a remote area off Avenue T, they can drive their vehicles as fast and as many times as they want -- legally.

"A $15 entry fee, as opposed to a $300 ticket for illegal drag racing plus a $600 impound fee for your car, is huge," said Narez, who said he attended a couple of illegal races in the past.

On this Friday, called "Friday Night Grudge," Narez was with three friends talking, laughing and comparing car parts before taking the track. The four locals were among about 150 drivers who rolled through the gates between 5:30 and 10 p.m. The drivers' ages ranged from 16 to 65, although most were in their late teens and 20s. They came from as far south as Long Beach and as far west as the Conejo Valley.

"It's a hassle, but it's worth it," said 19-year-old Ryan Alcantra of Newbury Park. "It took us an hour and 15 minutes to get here. With all the preparation time, it's more like a day-long event."

"Friday Night Grudge," which started in 1982, is the most popular weekly event at the LACR, where anyone can race or merely test the speed of their cars.

"Everybody has fun here. You can even bring your family out and have them sit in the bleachers to watch," 21-year-old Manuel Aldaba said.

And although most drivers at Friday's races are intermediate to advanced, a new program on Wednesday night, called "Street Legal," has attracted novice racers. The program started in April and is designed to keep older teen-agers off the street.

It appears to be working. Roll call has grown from 30 cars on the first night of "Street Legal" to an average of 80 cars. Last week, 112 cars showed up. Track manager Bernie Longjohn estimated that up to 85 percent of the vehicles on Wednesdays are driven by 20-year-olds and younger.

"A lot of cars that would be messing around are instead here getting their thrills," said Los Angeles deputy sheriff Scott Graham, who talks to young adults about the perils of drugs, gangs and street racing.

"It's a win-win situation. It doesn't create a problem for the residents driving around, and it gives the automotive enthusiasts a place to go to test their skills and test the performance of their cars."

Graham, 38, not only races his car at LACR on Friday nights, he also challenges the four winners of the Wednesday night program at the end of each month.

"Everybody would love to beat a cop or to race a cop and not get a ticket," Graham said.

Of course, first-time drivers may wonder how their car could compete with a race car such as Graham's. The answer is called bracket racing, which, like a handicap in golf, levels the playing field.

In bracket racing, all cars first go through trial runs to attain an average or "dial-in" time. When a race takes place, the car that has a dial-in time slower than its opponent receives a head start. For example, if a 15-second car races a 10-second car, the 15-second vehicle will get a five-second head start.

"Theoretically, they'll both get to the finish line at the same time. But the difference is your ability to react at the starting line. If I leave a millisecond after my light turns green and you leave one hundredth of a second after your light turns green, I have an advantage, regardless of what car I'm driving," Longjohn said.

Most tournaments at LACR use bracket races, which also takes money out of the equation. People spending thousands of dollars for an engine have no more of an advantage than the average car.

"You can still beat any guy because you're a better driver," said Ali Anshar, the 28-year-old owner of Easy Street Motor Sports in Sherman Oaks.

Anshar said because of bracket racing, he won the championship at Sears Point Raceway in Sonoma as a teen-ager three years in a row, despite driving a 14-second Camaro.

It also means that a variety of cars show up on Wednesday and Friday nights, ranging from hot rods to Volkswagens, souped-up Chevys to stock pickup trucks.

"I've even seen minivans and diesel trucks," said Palmdale's Ryan Trapp, 20, who has come to LACR about 10 times.

Added Longjohn: "The best part is that whether you drive the car or I drive it, a man or a woman, a 16-year-old or a 65-year old, the car does not know who is driving it, so that's the great equalizer. Therefore, anyone can compete in drag racing."

A SOLUTION TO ILLEGAL RACING?

According to the Palmdale Police Department, there has not been a major problem with illegal street racing in the Antelope Valley in recent memory.

"That's because they have a local track," Graham said. "Before the Terminal Island Racetrack in Long Beach was shut down, street racing was all but eliminated down there too, because it was a centrally located track."

Terminal Island closed three years ago, leaving raceways in Palmdale, Bakersfield and Carlsbad, along with one at the L.A. Fairgrounds in Pomona, as the only other options.

"We need more tracks," Anshar said. "At least this is here. If it wasn't, kids would get hurt racing illegally somewhere else."

Moreno Valley mayor Bill Batey, who makes the weekly trek to LACR to race his 1973 Camaro, said that not enough is being done to accommodate the growing hobby.

"You see skateboard parks being made, but we tend to forget the kids who are driving their 3,000-pound cars," Batey said.

"There's a problem with illegal racing in every town -- it's a matter of (getting) the elected officials to admit it. Without a doubt, it's a problem in my city, and with the lack of track availability, it's only going to get worse."

Batey, who also is captain of the Riverside City Fire Department, vividly remembers an incident where a 1965 Chevy Nova was wrapped around a pole as a result of an illegal race.

"It's only a matter of time where we have another tragedy like that,"Batey said.

INJURIES AND CRIME NOT A PROBLEM

According to Longjohn, LACR has one of the lowest injury rates in the country because of the immediate medical attention provided and the safety inspections for all cars. Inspections include a brake check and making sure the car battery is tied properly.

Longjohn estimated that an average of two to three people are injured every year.

"If you're racing down an ordinary street and you hit a pole, you're in serious trouble," Longjohn said. "Here, the worst you can do is hit a guardrail and 1,000 feet from you is a fire truck and an ambulance waiting to help."

Longjohn also said parents don't need to be concerned about the environment.

The notion of violence, helped by movies such as "Rebel Without a Cause" and "The Fast and the Furious," is not true at LACR.

"They know that we're not going to put up with fighting," said Longjohn, who added there has been one scuffle this year and it was quickly broken up. "The guys at the gates are real cops and they will arrest you. People that fight know they won't be allowed to race here again."

Most of the crimes reported in the past have been related to the stealing of equipment, but since the raceway has prohibited spectators from going into the pit area, the problem has abated.

FOR ALL AGES

When 61-year-old James Squires and his 58-year-old wife, Marie, first drove into the gates with their red and white Ford Lightnings, a few younger drivers smirked.

Their grins didn't last long.

"Once we go through the lines, they all know that we're dead serious," James Squires said. "It gives us older people a charge to know that we can keep up with people like that."

Marie Squires has won 11 trophies and James seven.

The two "grandparents" of the raceway have been regulars at Wednesday and Friday nights for the past two years. On most nights, James will come straight from his job at the L.A. Department of Water and Power to meet Marie, who brings dinner to the track before they race.

According to James Squires, the only reason the two might miss a night is to play in a bingo tournament.

The Squires should serve as a lesson to anyone who may feel self-conscious about driving against people half their age.

Said James Squires: "When I'm out there, I feel that I'm as young as anyone else."
The Chatsworth Street Racing Scene


Every Tuesday Night in Chatsworth everyone meets up at the Sizzler and gets ready for the races.

All types of cars from imports to muscle cars to exotics or even mom or dads van meet up to go to the races.

At around 11 pm. everyone moves out befor the Police show up to give out cerfew tickets... they all cruis down to Canoga and Plummer in an indrusturial area with a perfect quarter mile area.

There have been a couple of big busts in the last couple of months that were on the news, latley what the police have been doing here is bringing in semi trucks and fire trucks to block of both sides of the streets,the races often get as big as 100 to 150 people at once. By Anonymous
Police Arrest Sun Valley Street Racers

Reprint from The Daily News - 1/15/2001
By Joseph Giordono Staff Writer

SUN VALLEY -- The roar of engines and the screeching of rubber on the road were replaced by the wail of sirens and cries of unsuspecting street racers early Sunday morning, as the Los Angeles police and three other agencies swept in for another attempt at shutting down the popular illegal activity. When the smoke and dust cleared, at least a half-dozen racers and other participants had been carted off to jail, and 72 cars were impounded thanks to a new enforcement tool.

Working with City Council members, police in the Northeast Valley have begun marking the curbs of popular racing streets as no-stopping zones -- in effect allowing them to impound every car that was trapped when the officers moved into position.

"They won't be so loud when they realize that they aren't going home with their vehicles tonight," said officer Ron Walker, who led the task force made up of LAPD, California Highway Patrol, state emissions inspectors and auto theft detectives.

Saturday night, the target was a milelong strip of Glenoaks Boulevard between Peoria and Sheldon streets in the Sun Valley area.

The long, flat strip is just one of many popular racing streets in the Valley.

Almost a dozen police cruisers had staked out the area, patiently waiting on side streets to box in both ends of the street and snare as many violators as possible.

Plainclothes officers had walked among the racers all evening, keeping police apprised of how many cars and participants were gathering at the northeast San Fernando Valley hot spot.

Earlier in the evening, a lone squad car had driven right through the scene, scattering the racers and threatening to ruin the stakeout.

But by around 12:30 a.m., the racers were back in force, and the plainclothes officers called in the go-ahead via cell phone.

Though the plan did not quite work to perfection -- almost half of the racers and bystanders escaped either in their cars or on foot -- the stakeout managed to snare almost 100 vehicles and scores of people.

Officials searched every car, processed every person and wrote tickets for every vehicle code violation.

Racers and curfew violators were carted to the Foothill police station in large vans. Then, thanks to the newly posted no-stopping-zone signs, police towed every parked vehicle to an impound lot.

Officers made one felony arrest for weapons possession, issued six misdemeanor citations for racing and 25 citations for curfew violations. They issued 20 citations for illegal modifications and impounded 72 vehicles.

"This is crazy, man. I had seen these things go down before, but I never thought that they could take everyone's cars like that," said James Martinez of San Fernando, who said he was there to watch the races.

"I don't see how they're going to prove how each car was stopped in the zone, but it don't matter since they're towing them all anyhow."

Several other carloads of young people blasted loud music and shouted for officers to hurry up and give them their tickets, unaware that their vehicles would end up being towed.

Their bravado quickly waned when they saw their vehicles loaded onto the flatbed tow trucks carting off two vehicles at a time.

For the luckiest, the night cost $200 in impound fees and parking violations.

For others, who have poured thousands into modifying their cars for speed, it was much more costly.

Members of the state Bureau of Automotive Repair popped every hood and slid under every car to check for modified or missing pollution control devices.

Detectives checked engine parts to see if they matched up with stolen vehicle records.

"The most common thing is for them to remove their catalytic converters, but we have seen everything up to nitrous oxide systems on these cars," said John Nelson, one of the bureau's inspectors.

"They put thousands into the modifications, but once we cite them, they have to spend just as much to put them back to normal."

The tickets require the vehicle's owner to replace all modifications with factory-direct parts, and prove that they have done so to a third-party referee.

To the racers, the crackdowns are unduly harsh.

"It's not like we're out here doing drugs or shooting at one another. We're just out here to have fun," said one 17-year-old who did not want to give his name.

But officers disagree. Since 1995, they say, almost two dozen people have died in illegal street racing incidents. One of the most recent fatalities was George Bekerian, a 26-year-old Van Nuys man who in November smashed into a car and a power pole while trying to race on Coldwater Canyon Avenue, officials said.

A couple of years back, an 18-month-old girl was killed in a car while her young father watched the races.

"These are not skilled drivers by any means, and the danger is pretty high, " Walker said.

Walker said the undercover operations have been used primarily during summer months, when the racing really heats up. But this weekend's stakeout was, as much as anything, to let the racers know the police are out there.

The gatherings have been a problem for almost 30 years, Walker said, stretching back to when movies such as "American Graffiti" popularized the activity.

The showmanship and revelry are a strong lure for young people, Walker said, despite the risk of arrest or worse.

But now other, nonpolice agencies are joining the fight.

Along for the ride Saturday night was a representative of a consortium of major auto companies, race sanctioning bodies and parts manufacturers which is starting a program to try to divert people from illegal street racing into sanctioned races. Racers Against Street Racing hopes to be active soon and will try to recruit top professional drivers and former illegal street racers to the cause.

But for some of the participants, even having their cars impounded and being slapped with hundreds of dollars in fines won't deter them.

"You know how it is," said a 25-year-old Sylmar man whose car was impounded. "The crowd is just going to get together at a different spot next week and will try to keep a better lookout. Tonight was just the wrong place at the wrong time."
Published Thursday, May 4, 2000 in THE DAILY BULLETIN

By David Seaton Staff Writer

ONTARIO -- Weary of playing cat and mouse with illegal street racers and their fans, police say they have finally built the perfect trap.

Police were given permission by the City Council this week to shut down five industrial streets in eastern Ontario between 11 p.m. and 6 a.m. Fridays and Saturdays.

The roads turn into illegal drag strips that draw hundreds of fans and foster crime from graffiti to murder, police claim. Violators caught on the closed roads face a $1,000 fine and up to six months in jail.

This move comes a month after the council passed an anti-cruising ordinance meant to disrupt racers and their fans who parade their cars near Ontario Mills before sneaking off into the industrial areas after midnight.

Police also have tried to arrest fans for unlawful assembly but a judge said that law did not apply.

"In the last few years it's gotten out control," said Officer Robb McCandlish. "These kids think the streets belong to them, and they have no remorse for what they do."

The innovative program will start this weekend when police pass out warning fliers to crowds on the streets to be closed. Police then plan to post 40 to 50 signs on the designated streets before they enforce the law.

Racers mock police efforts over the Internet and delight in running from them, said Mario Campos, a former drag racer. But police warn not to question their resolve.

"Where they go, we will go until it's solved," McCandlish said.

Other cities, including Fontana, are waiting to see if the street closing offensive works.

"If it comes to the point where illegal racing is that bad, I'm sure we would consider it," Fontana Mayor David Eshleman said.

The warehouse district that straddles Ontario, Fontana and Riverside County has become an inviting venue for illegal street racers. The long stretches of empty asphalt allow drivers to reach 100 mph or faster.

Fontana Officer Michael Clay said authorities chase crowds between those jurisdictions like a game of tag. Fontana plans to install speed humps to scuttle racers - a tool Ontario has used with some success, officials said.

Eshleman said the region needs a legal drag strip, especially after the Pomona Raceway eliminates its street-legal races in 2001. A proposal in Rialto calls for a legal drag strip at the Rialto Municipal Airport.

"They need an alternative venue," said Campos, 24, who had his car and license taken for racing illegally last year. "There's no place to go."

Campos agreed with police that today's races are no longer the innocent rite of passage made popular in the movie "American Graffiti."

"It's not so much the racing," he said. "It's the partying and drinking now. Everybody has fun running away from police."

Police associate the races with graffiti, looting, burglaries, even murder. A staff report requesting the emergency ordinance says two area killings occurred over racing debts. Police last year received 435 calls for service near the targeted streets.

The council unanimously approved the street closure program.

"They're so orchestrated and they move so fast," Councilman Jerry DuBois said. "The string of cars is unbelievable unless you see it."

The city is using a section of the state vehicle code that allows authorities to shut down public streets that are the site of repeated criminal activity.

"I believe it very clearly is going to pass constitutional muster," City Attorney John Brown said.

Business owners support the road closures because of the vandalism, litter and disruption to their businesses. Some trucks must alternative warehouse entrances. Employees must show identification to use the closed streets, McCandlish said.

"Those folks with legitimate business in the area won't be affected by this ordinance," said police Chief Lloyd Scharf.
A Deadly Game

Street racing is fast-growing in the Southland. Too often, it can be fatal.
By John Lehrer

Young men and fast cars were an integral part of the American automotive landscape long before Bruce Springsteen first sang "Racing in the Street" nearly 30 years ago. The hot rods of the post–World War II era, coming-of-age movies such as Rebel Without a Cause and American Graffiti, and 1960s muscle cars such as the Dodge Charger and Pontiac GTO all claim a revered place in American popular culture. Tonight, tonight, the highway's bright Out of our way, mister, you best keep 'Cause summer's here and the time is right For goin' racin' in the street. — Bruce Springsteen, "Racing in the Street"

But today's street-racing scene is far different. It's darker, more frenetic, and more dangerous, and it's not likely to be recalled nostalgically three decades from now. Law-enforcement agents agree that street racing is a growing problem throughout the nation, and especially in Southern California. Locally, a culture has developed around these illegal and sometimes impromptu races on freeways, city streets, and country roads. It's fueled today not only by high-octane gasoline and nitrous oxide, but also by the $29-billion-a-year aftermarket parts industry, magazines such as Import Tuner and Sport Compact Car, movies such as The Fast and the Furious, and depictions of high-speed racing in automakers' multimillion-dollar ad campaigns. For those who race and the unsuspecting motorists and bystanders who cross their paths, the result, all too often, is injury and death. Street racing affects communities differently, and local law-enforcement agents respond to it based on their training, previous experience, and available resources. In many Southern California communities, law-enforcement groups and private organizations have had to devise creative solutions to help put the brakes on this growing trend.



Photograph courtesy Los Angeles Police Department

What Parents Can Do
Parents can have a tremendous influence on their children's attitudes and driving behavior. Being aware of the dangers and appeal of street racing is just the first step. "Be involved with your kids," says officer Michelle Rodriguez, of the Los Angeles Police Department, who's worked to curtail street racing since 1996. "Even if they're good kids, you can't just let them go with the flow. There's a lot of peer pressure out there, and much of the media makes street racing look fun and glamorous." "Trust your sixth sense," says Detective Sergeant Greg Sloan of the San Diego Police Department's Drag-Net unit. "If your kid is swapping out tires every month or replacing engines, there's probably something going on. Level with your kid. Tell him or her that street racing is a crime with serious penalties, that because of the speeds involved and the number of people on the roadways, more people are dying than ever. And that if he or she is arrested, you, the parent, might be held responsible financially. "Ask your teenager, 'Do you really want to take the risk?' And maybe if you're persistent and you show them that you really love them and care about them, they'll come to the conclusion it's just not worth it."

Safety First
Encouraging safe, responsible driving in young people is a core Auto Club value. Toward that end, the Auto Club sponsors the California Speedway Team, which promotes respect for the automobile and safe driving and reinforces the message that racing belongs on the race track. In 2002, the Auto Club also backed SB 1489, which imposed serious penalties for drivers involved in speed contests; has participated in and moderated seminars on illegal street racing and forums on traffic safety with Southern California law-enforcement agencies; and has sponsored "Beat the Heat" events, legal alternatives to street racing, in conjunction with the Covina and Monterey Park police departments. — J.L.

Not Your Father's Drag Race
As in the past, the street-racing culture appeals mostly to young men ages 18 to 25, although young women are increasingly becoming interested. Its allure transcends regional, economic, racial, and ethnic boundaries. Instead of large American muscle cars, today's vehicles are mainly modified import sport compacts: Hondas, Acuras, Mitsubishis, and Subarus. The social context of street racing also has changed. "In the 1970s, 75 to 100 cars were out there at a time in San Diego," says Detective Sergeant Greg Sloan, who heads up the Drag-Net unit of the San Diego Police Department, the only team in the country devoted full-time to stopping street racing. "They'd race long straightaways, streets that weren't heavily used, mostly on weekends. They spent a lot of time socializing in parking lots with the hoods up, talking about their cars."
Today, law-enforcement agents say the number of cars and teenagers involved in some races in Southern California is in the hundreds — even more than a thousand on occasion. Participants focus more on racing than socializing. And some street races take place on highways and roads shared by innocent drivers. "In Ontario, there's been a call about street racing every weekend for the past five years," says Corporal John Duffield of the Ontario Police Department, who's worked since 1999 on the problem. "It's not unusual to see 200 or 300 cars on a road looking for a race."

Different Strokes
Law-enforcement agents have been implementing novel solutions to this evolving problem. San Diego had been suffering from increasingly bad street-racing problems for a decade when the California Office of Traffic Safety provided funding in 2001 for the Drag-Net unit, which uses a multifaceted approach to control the trend. For instance, instead of conducting a routine bust, the officers would videotape races, find out who owned the cars, then confront the kids and their parents at home. Officers educated city and county agencies, parents, and the judicial system, schools, and media, pushing for stronger street-racing laws. They also created alliances with groups that had developed alternatives to street racing, such as RaceLegal.com, which organizes about 30 Friday nights of legal drag racing per year in a parking lot at San Diego's Qualcomm Stadium. Drag-Net's efforts to establish stiffer penalties have been largely successful. For example, San Diego and surrounding cities passed laws to make it illegal to even watch a street race; violators can be fined and do jail time.

Tougher laws mean bigger consequences for the racers. "We'll arrest them, fine them, take their licenses, and throw them in jail," Sloan says. "They'll get on the Internet and tell other racers, 'This isn't just a speeding ticket anymore. It's going to cost me 10 grand.' And that doesn't take into account the seven years of bad luck on their car insurance." The police also have been trained to identify illegal modifications to cars, such as certain exhaust systems, so they can arrest potential street racers in nonracing situations. And if a street race causes a death, "not only the driver who caused the collision but even the driver of the noncontact vehicle can be charged with murder," Sloan says. "It used to be manslaughter, which in practice is one to three years jail time. Now we're talking second-degree murder, which is 15 years to life." Because of this concerted community effort, the incidence of street racing and its attendant deaths and injuries are down significantly in San Diego, from eight deaths and 16 serious injuries in 2002 to zero deaths and four serious injuries in 2004. "This doesn't mean the problem is solved," Sloan says. "It takes continuous vigilance. You have to change the philosophy — to see street racing as a serious crime that has to be addressed through education, strict enforcement, and taking racing to the track. Otherwise, the problem is going to come right back."

Scared Straight
Gunnar Nettleship (pictured), 33, loves to drive fast. A service writer at an auto dealership in Los Angeles and a graphic designer, he's raced in Sports Car Club of America autocross events since 2002. But Nettleship's fast driving wasn't always legal. Here's his story. From my late teens through my early 20s, I was into street racing. We'd race on Pershing Drive, west of LAX. Sometimes we'd go canyon running: Around 3 a.m., we'd drive Mulholland Highway from Hollywood to Point Dume — boil brake fluid and ruin a set of brakes in a single night. Or we'd slide around corners at 60 mph or faster on huge, empty streets in downtown L.A. We did some stupid, dangerous things. I could easily have killed myself or somebody else. The last time I went canyon running, I lost it going into a corner and put the back end of my Acura over a 75-foot drop. The car stopped, hanging onto a thick shrub, and I crawled out the window. I still don't know why I didn't tumble over that drop. That scared me so bad, it made me slow down. Then, in November 2001, I went to Laguna Seca for track day and got the bug again. So I started looking for the cheapest legal way to race and discovered autocross, a race against the clock on a course set up in a big parking lot. The Street Touring class is a "run what you brung" kind of thing — you can drive any street-legal car. I did well at that, and then I started autocross in shifter-karts, go-karts with tiny motors and six-speed transmissions. This year, I'm going to the California Region Superschool to get my club racing license. I talk to a lot of kids who street race, and one difference I see between them and me at their age is that they think they're great drivers already, that all they have to do is spend the money and make their cars faster, and that's enough. They think they're immortal. But I've learned that no matter how good a driver you think you are, somebody else can make the mistake that gets you killed. So why risk your life? I drive on the street as safely as I can, and when I want to drive hard and fast, I go to the track. — Interview by John Lehrer

In Los Angeles, for example, the police can confiscate street racers' cars and eventually crush them. "We wanted to make a strong statement that L.A. would not tolerate street racing," says Michelle Rodriguez, senior lead officer for the Sun Valley area, Los Angeles Police Department Foothill Division, who's been involved with combating the problem since 1996. "To racers, their cars are everything. If you crush them, that sends a powerful message." Los Angeles has had success with other tough laws, too, including spectator laws (up to six months in jail, maximum fine of $1,000 plus a penalty assessment). Also, the Bureau of Automotive Repair has trained police to enforce laws dealing with illegal modifications to a car's engine and exhaust system. Ontario has had similar successes. "Our street racing is mostly the traditional one-eighth-mile or quarter-mile drag races," Duffield says. "Ordinances for street closures, a spectator law, and vehicle-seizure legislation have worked pretty well. At one large arrest in August 2003, for example, we detained 150 cars, arrested nine guys, and seized eight vehicles. And those are permanent seizures." Many experts agree, however, that enforcement alone isn't enough to turn the tide. "You have to offer an attractive legal option," says Stephen J. Bender, a recently retired San Diego State University professor of epidemiology and biostatistics who in 1998 founded San Diego–based RaceLegal.com. "We average 250 cars and 1,600 spectators per event," Bender says. "We make it as close to the street experience as possible, and we inspect the cars carefully. In 200 races and more than 300,000 passes down the strip, we've had only four minor crashes — and no injuries."

New Tricks
As authorities crack down on traditional street racing, racers have developed techniques that are more difficult to deal with, among them spontaneous highway racing. "One or more racers will cruise the highways late at night, flashing their accessory lights — a common sign they're looking for a race," says Sergeant Fred Furey, who runs the Regional Traffic and Auto Theft Bureau for the Orange County Sheriff's Department in Aliso Viejo. "Another racer will pull alongside, they'll give each other a sign, and the race is on. They'll zip in and out of traffic at high speeds, then maybe slow down and decide whether they want to race again. In some ways, it's scarier than drag racing, because a lot of innocent motorists get caught up in it." Regardless of the forms street racing may take in the future — and it's not likely to be eliminated entirely — government agencies and concerned individuals and organizations stand committed and prepared to counter it through law enforcement, education, and legal alternatives. "The mind-set of the kids doing this is that they're invincible, that nothing can hurt them," LAPD's Rodriguez says. "But we've seen what can happen. It's not that we want to be the bad guys. We just don't want these kids to wind up dead." John Lehrer is editor in chief of Westways magazine.

Dirty Little Secrets
Besides the carnage, street racing often involves theft and insurance fraud. "The interest in modifying vehicles is on the increase," says Mike Bender, an auto-theft and insurance-fraud specialist formerly with the Los Angeles Police Department and the National Insurance Crime Bureau. "Kids want their cars to look good and go fast, which means they have to modify them with expensive parts — wheels, exhaust systems, engine kits, spoilers, and so on. And if they take out a hood and front fender in a crash or blow an engine, they have to repair it." Sometimes the money for parts comes from indulgent, unassuming parents; sometimes it comes from a teenager's job. But sometimes the parts are stolen. Then there's insurance fraud: "A kid who wants a new look to his car might key his paint job, 'steal' his car's wheels, or slash his car's interior and report it to the insurance company as vandalism," Bender says. "Or if he needs to replace an engine, he might report the car stolen, and when it's recovered, blame the blown engine on the 'thief.'" Eventually, the money involved in theft and insurance fraud has an impact on the auto-insurance premiums of honest policyholders.